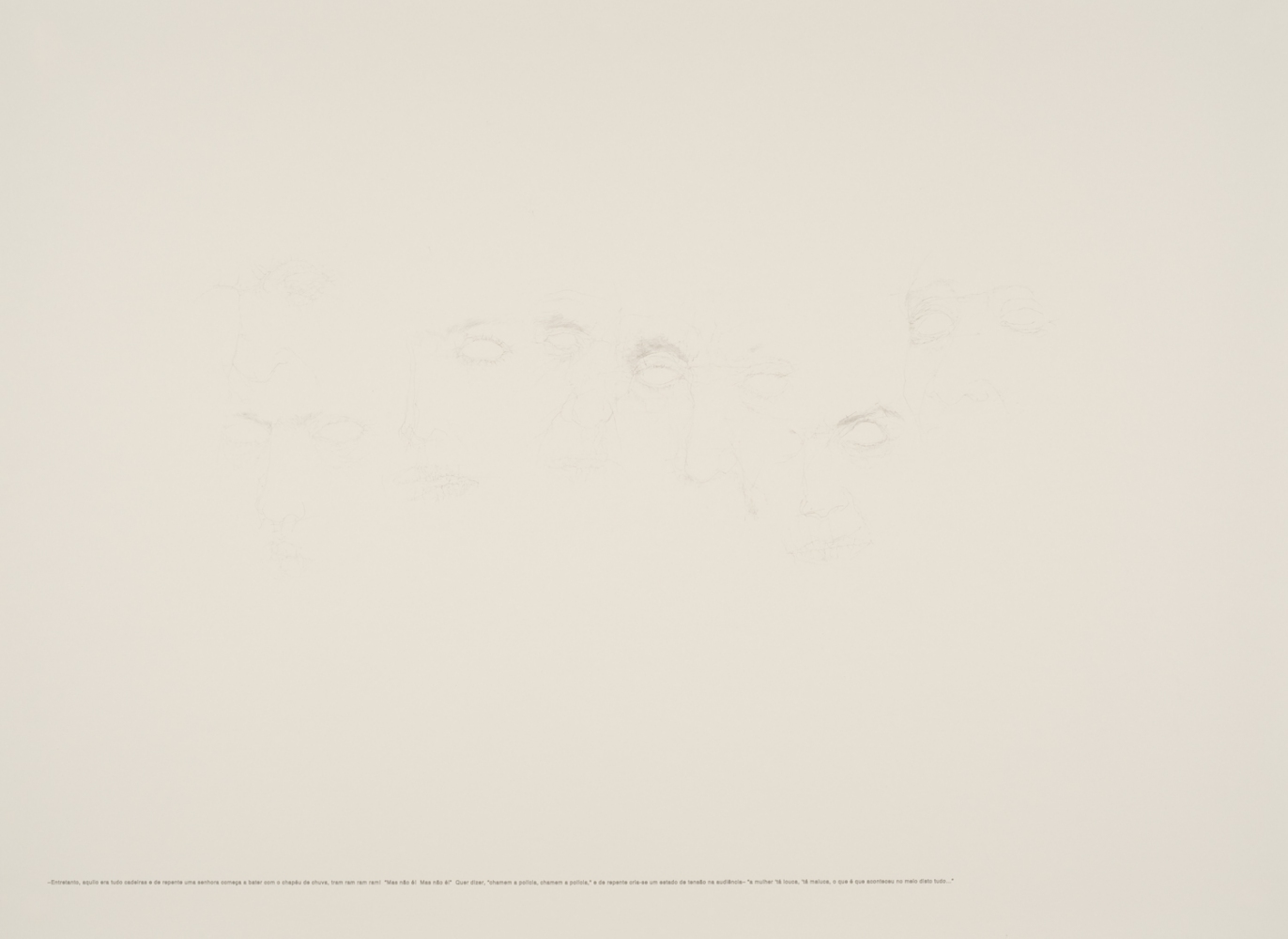 #1 CLICK TWICE TO READ TEXT
– So, the whole place was full of chairs and suddenly a woman starts banging with her umbrella, bang bang bang! 'It's not right! It's not right!' and, 'Call the police, call the police', and suddenly the audience became really tense, 'She's mad, she's crazy, what' on earth happened here...'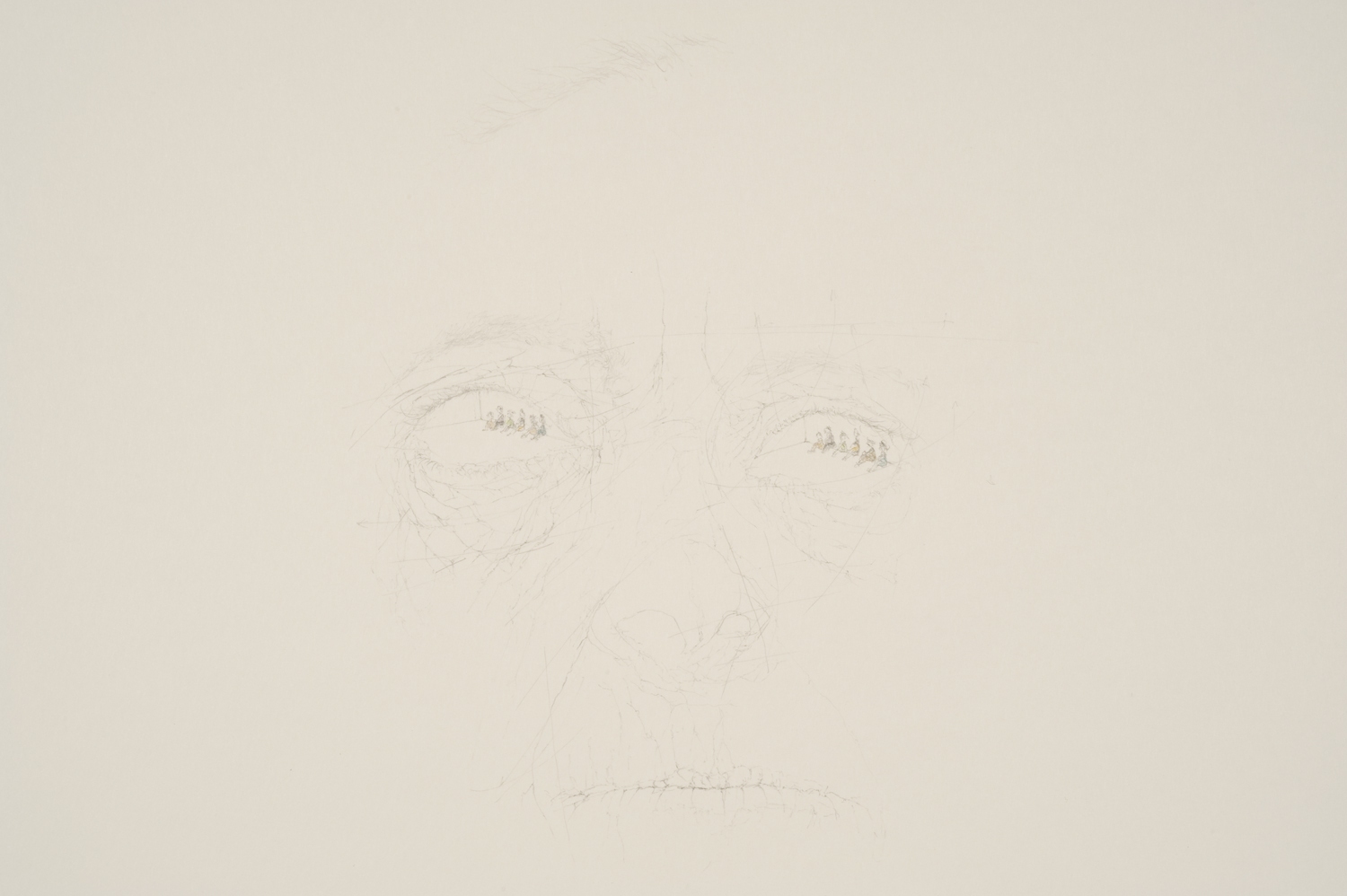 #6 DETAIL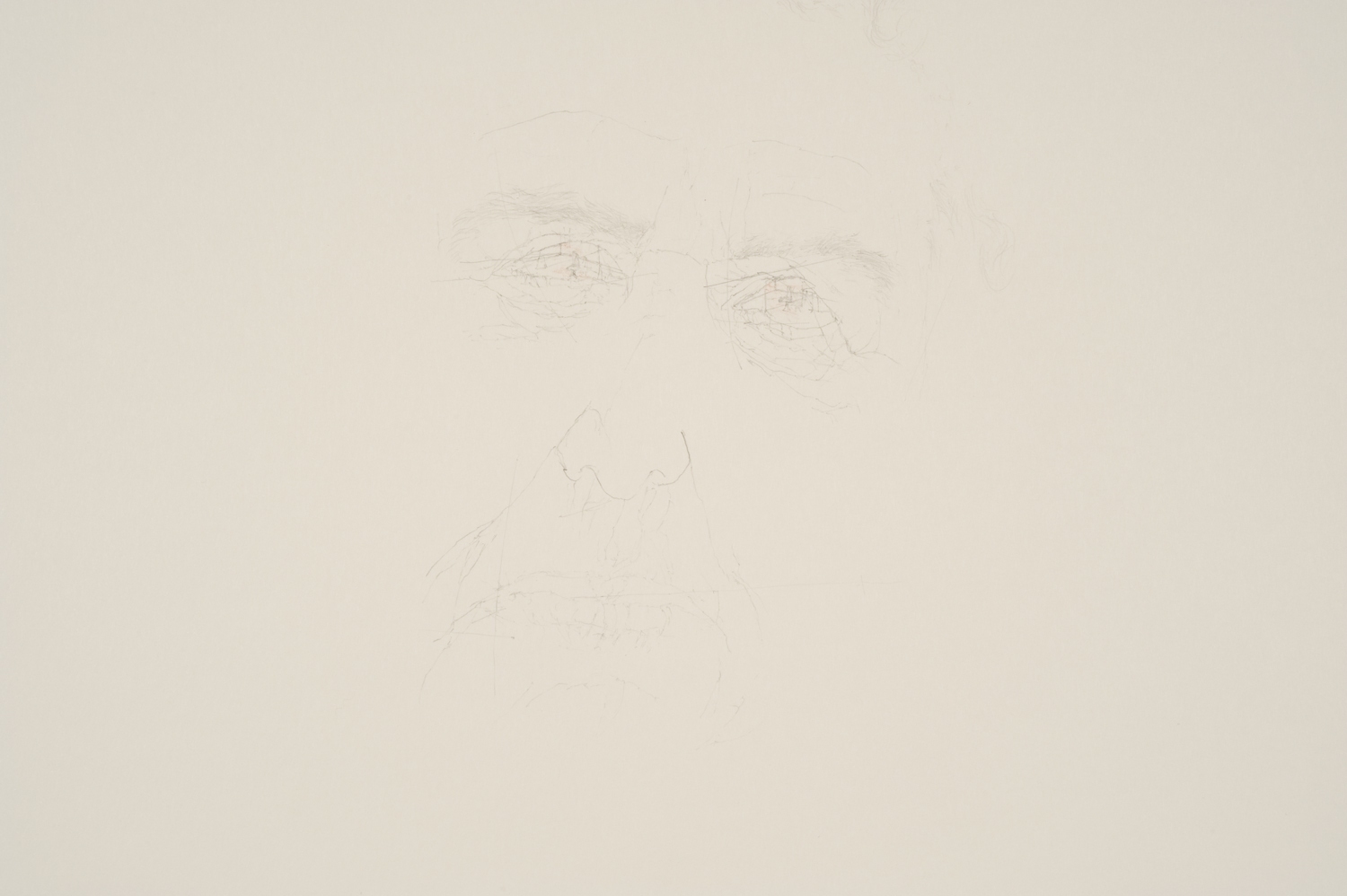 #2 DETAIL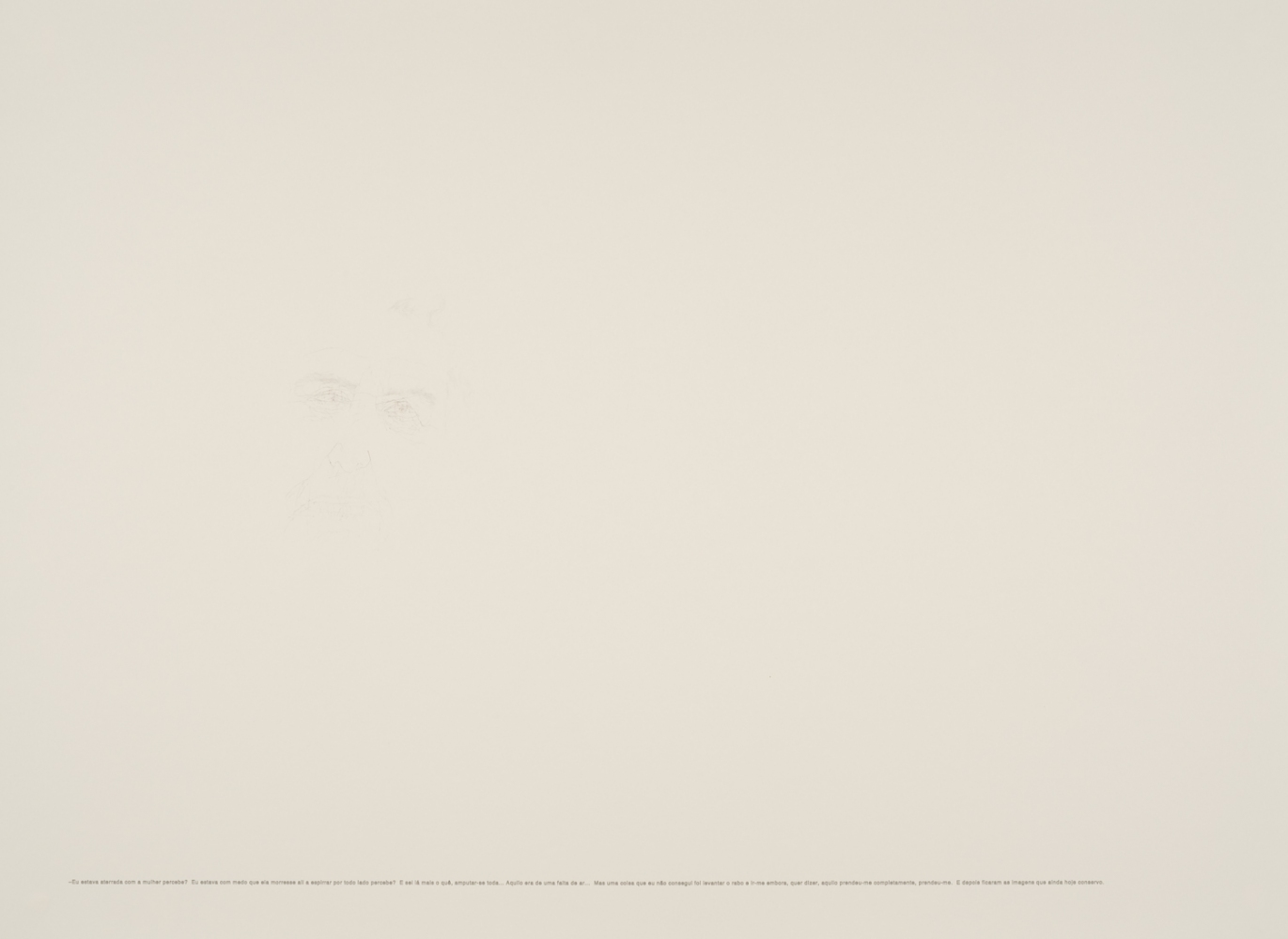 #2 CLICK TWICE TO READ THE TEXT
She terrified me, you know? I was scared that she was going to die spurting blood all over the place, you know what I mean? And god knows what else... cut herself to pieces... It was suffocating... But I couldn't leave, I was rooted to the spot. I mean, I was completely mesmerised. And I was left with the images that I can still see today.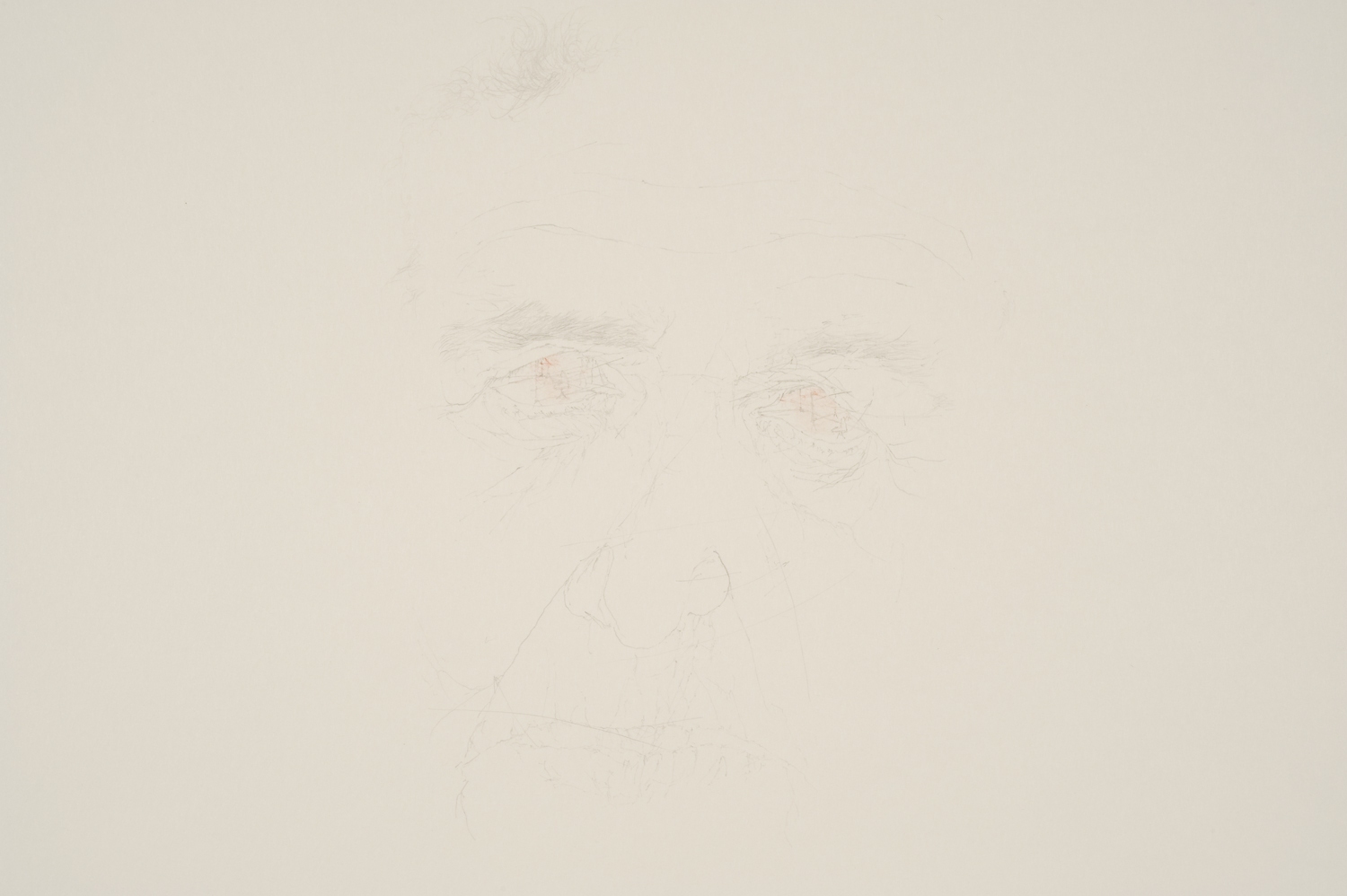 #3 DETAIL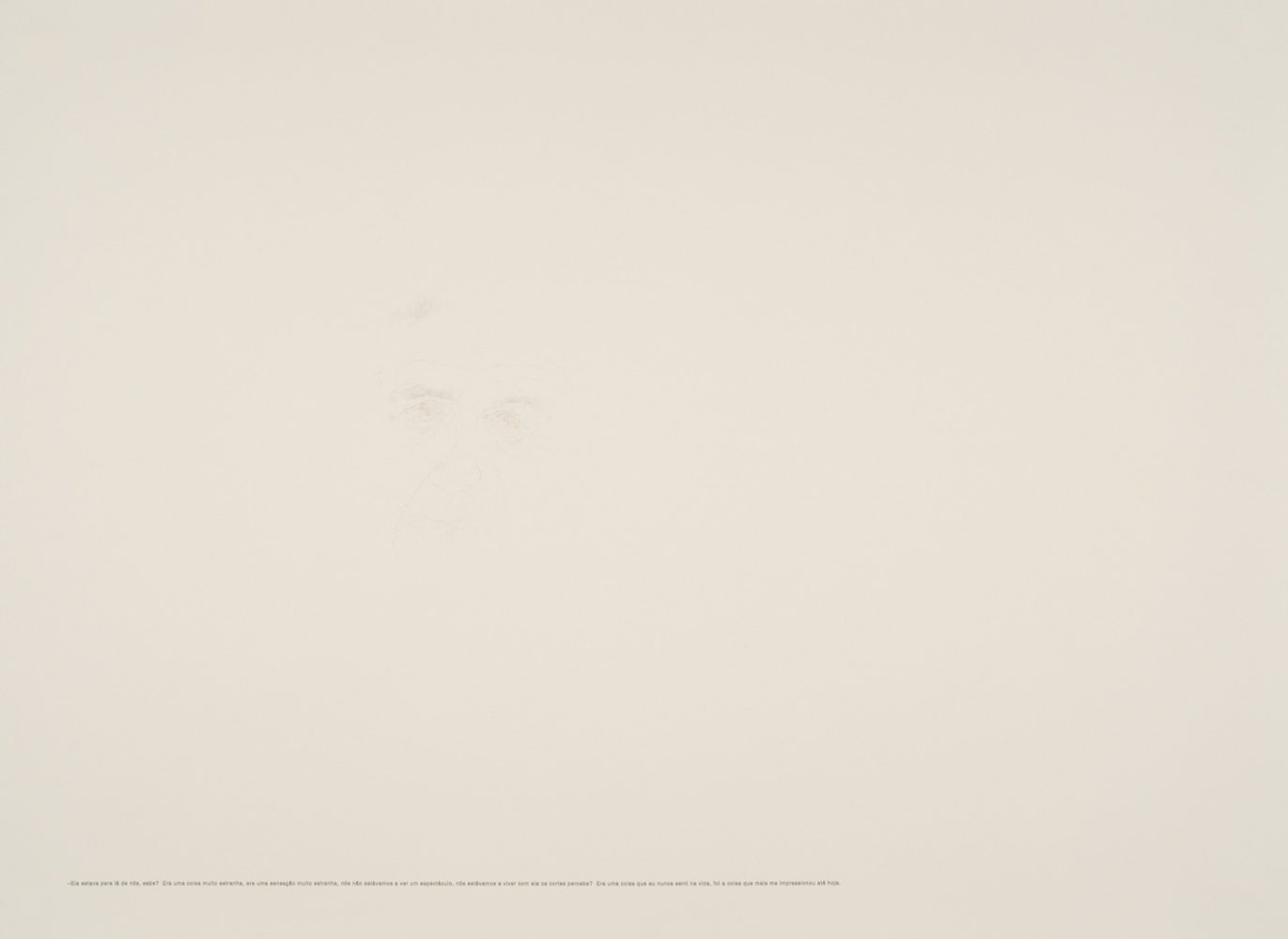 #3 CLICK TWICE TO READ THE TEXT
– She was way beyond us, you know? It was really strange, a really strange sensation, we weren't watching a performance, we were experiencing the cuts with her, you know what I mean? It was something I've never felt before in my life, it was the most powerful thing I've ever seen.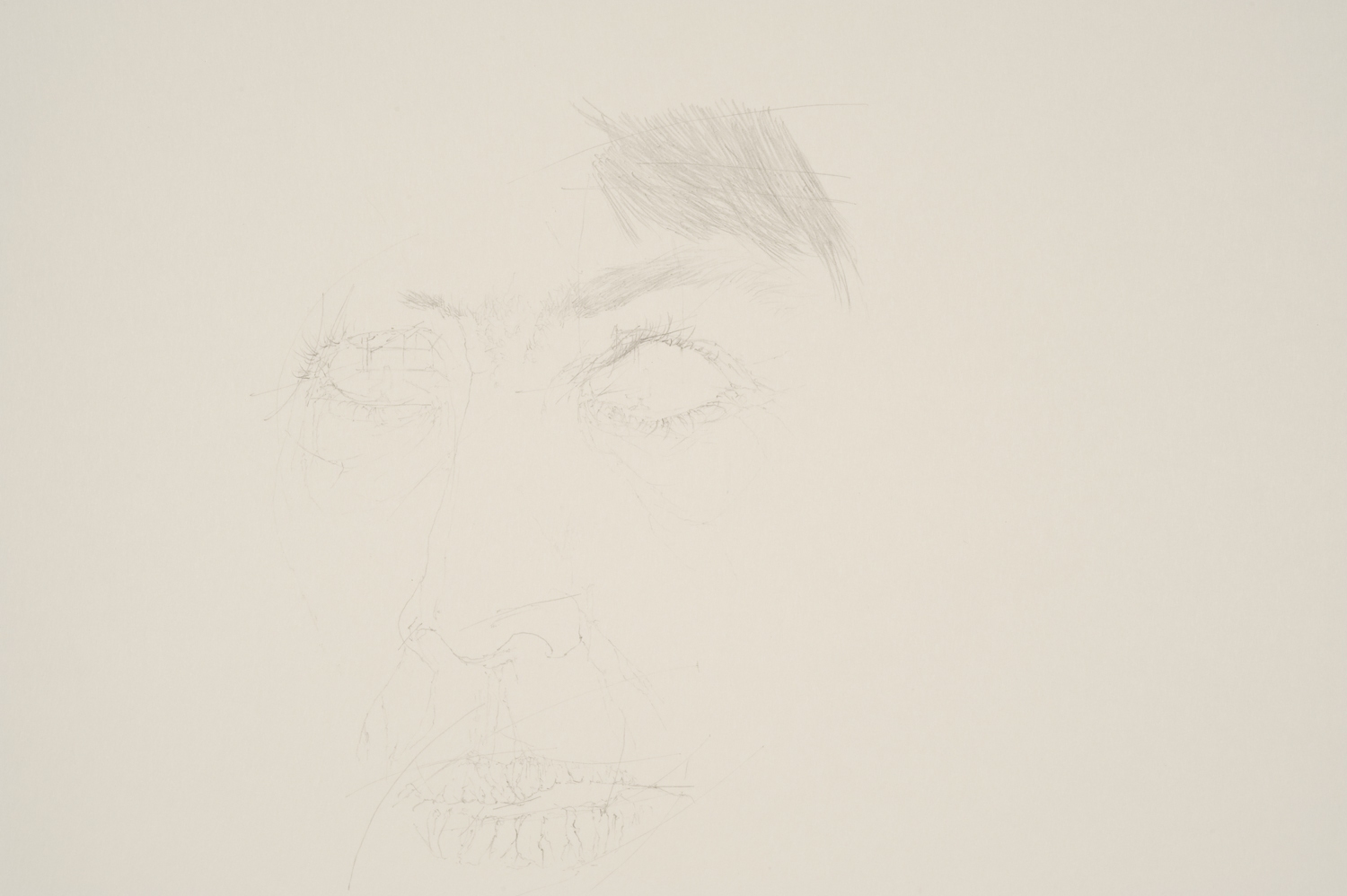 #4 DETAIL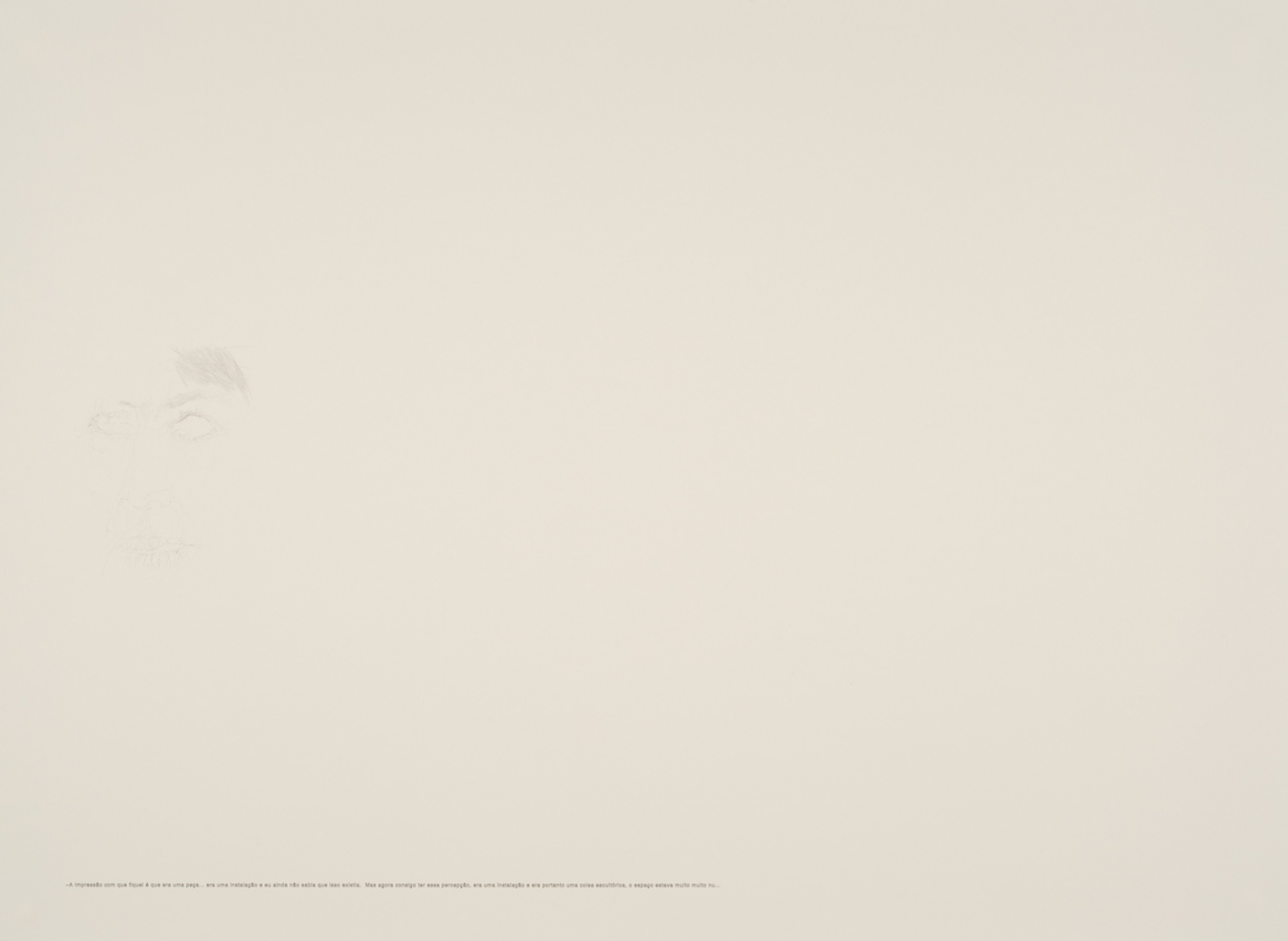 #4 CLICK TWICE TO READ THE TEXT
– My memory of it is that it was a piece... It was an installation, and I didn't know anything about that then. But now that's the perception I have of it, it was an installation and so it was something sculptural, the space was really really bare...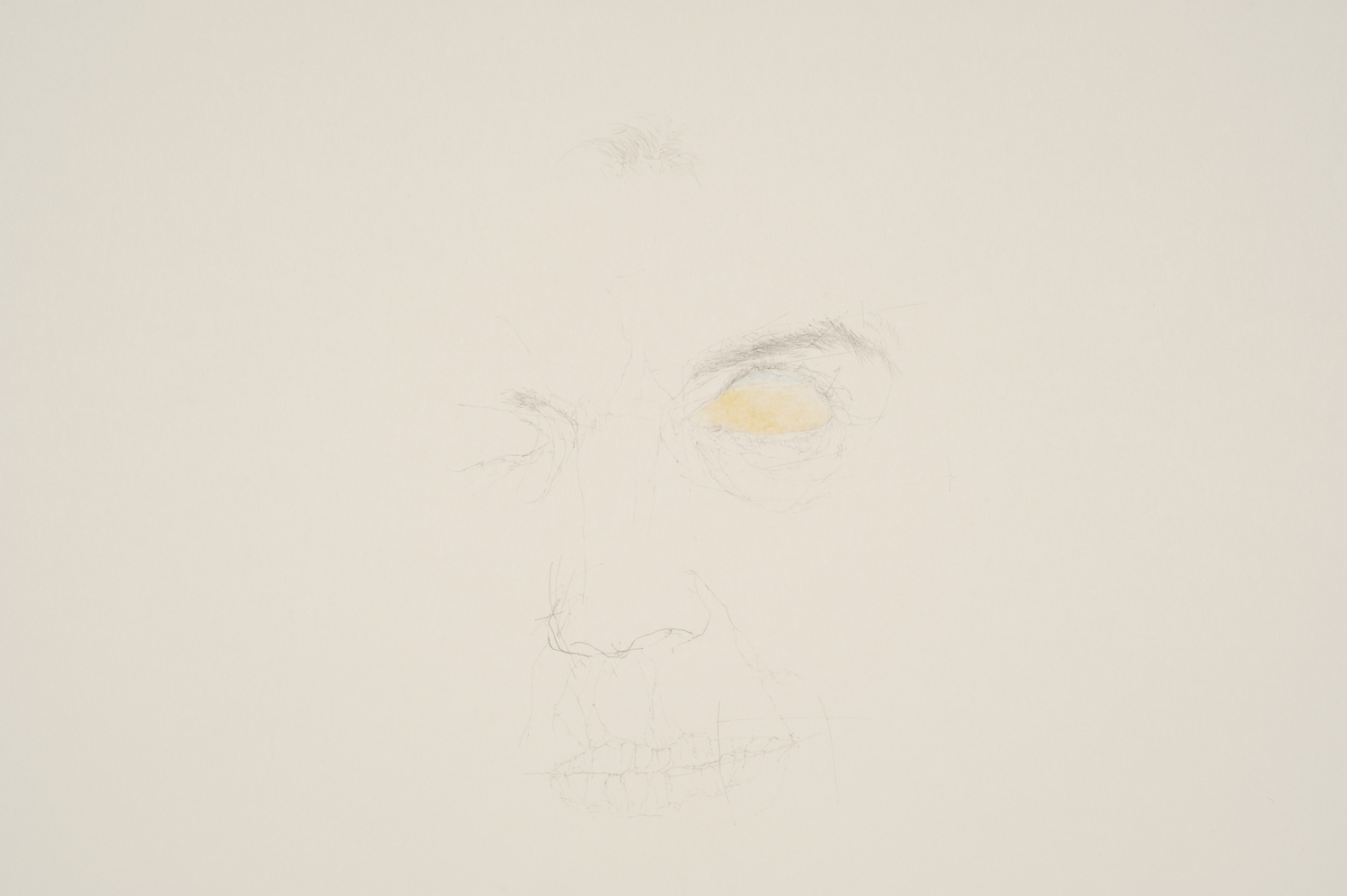 #5 DETAIL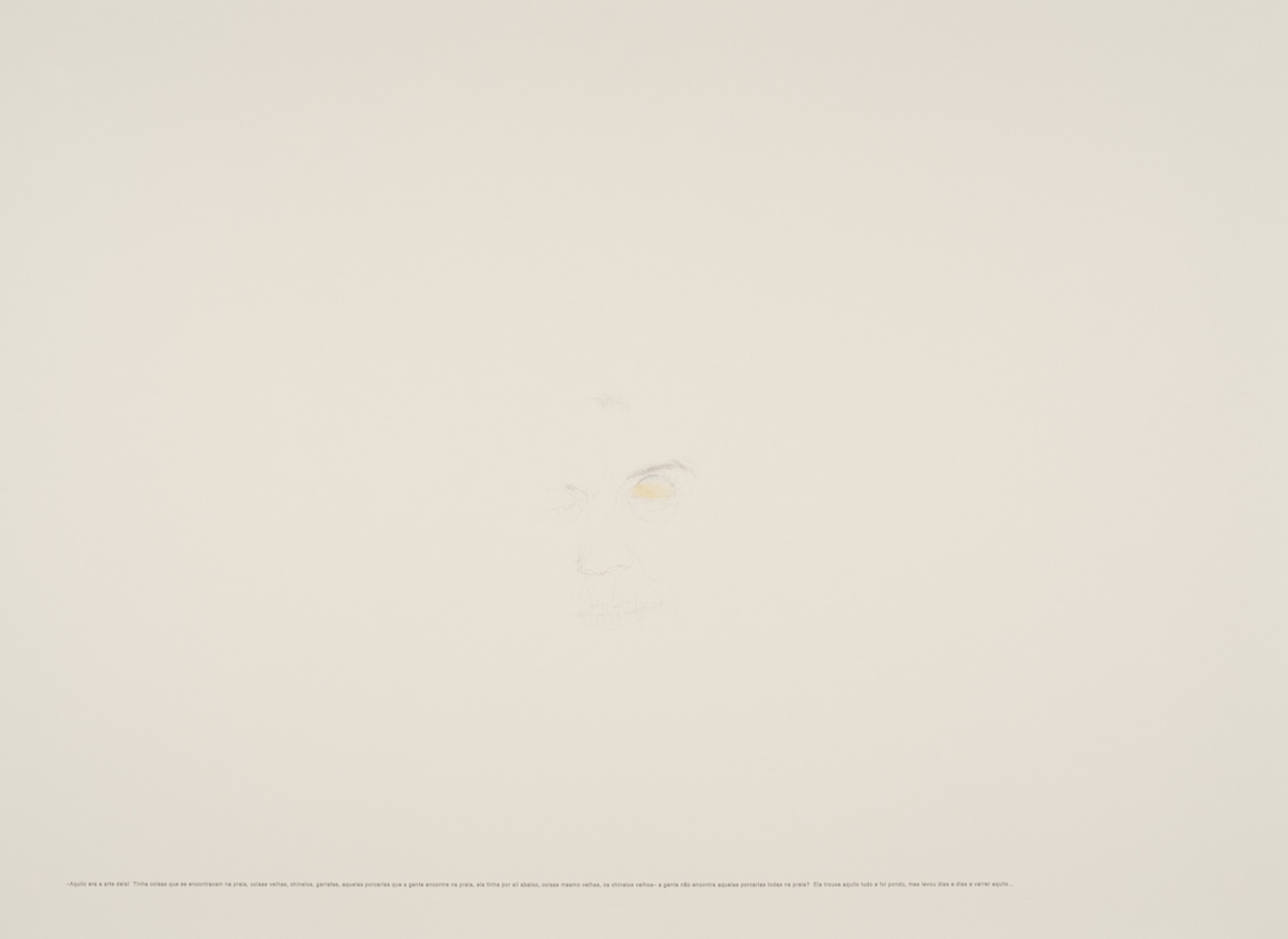 #5 CLICK TWICE TO READ THE TEXT
– That was her art! There were things that you find on the beach, old things, flip-flops, bottles, rubbish you find on the beach. She had really old things down there, old flip-flops – they're all things you find on the beach, right? She brought it all and arranged it, but it took days to collect it all…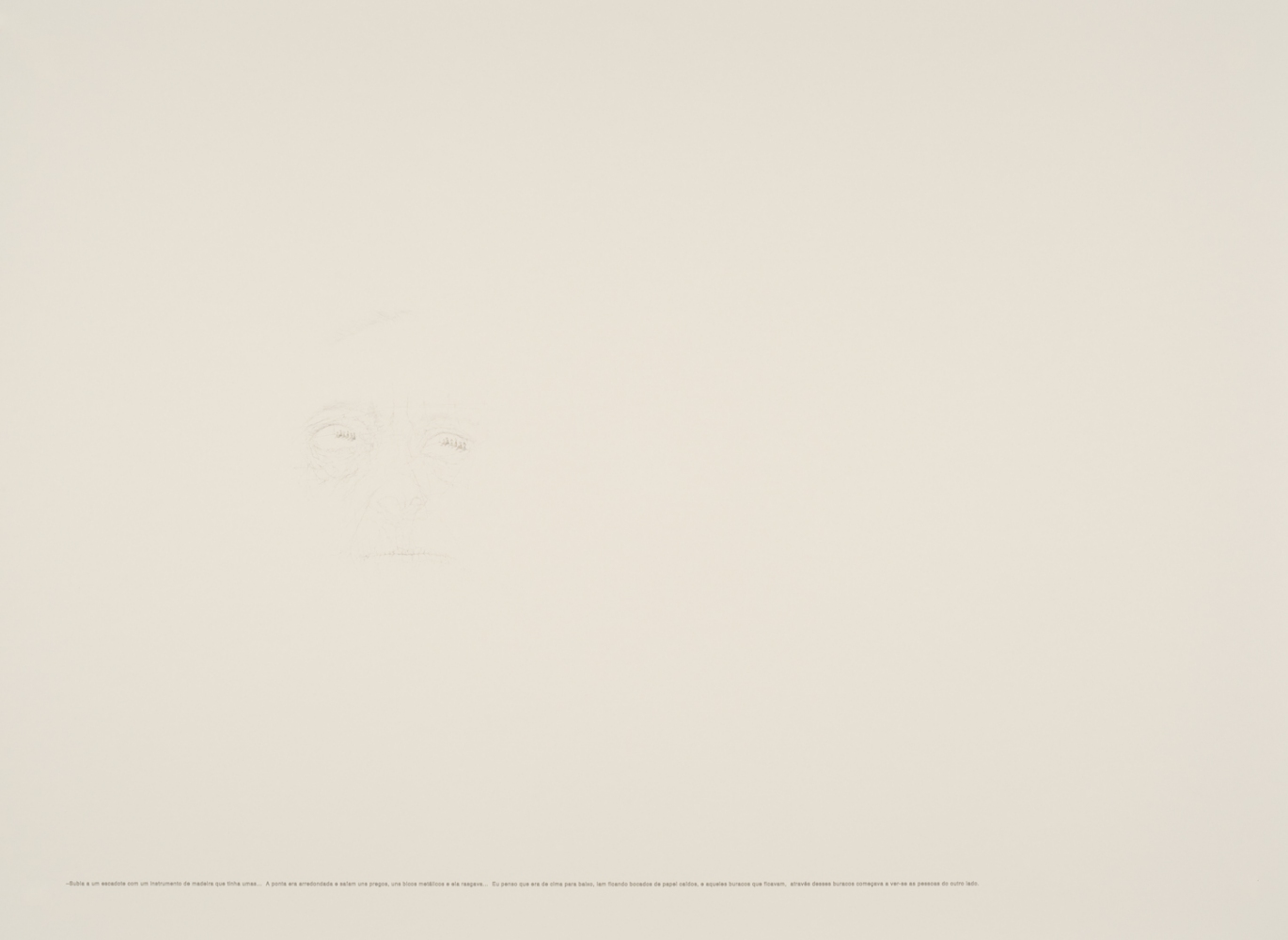 #6 CLICK TWICE TO READ THE TEXT
– She climbed up a stepladder with a wooden instrument that had some... it was round at the end and there were some nails sticking out, some bits of metal and she began tearing, from the top to the bottom, I think, shreds of paper were falling on the floor, and through the holes that were left you began to see people on the other side.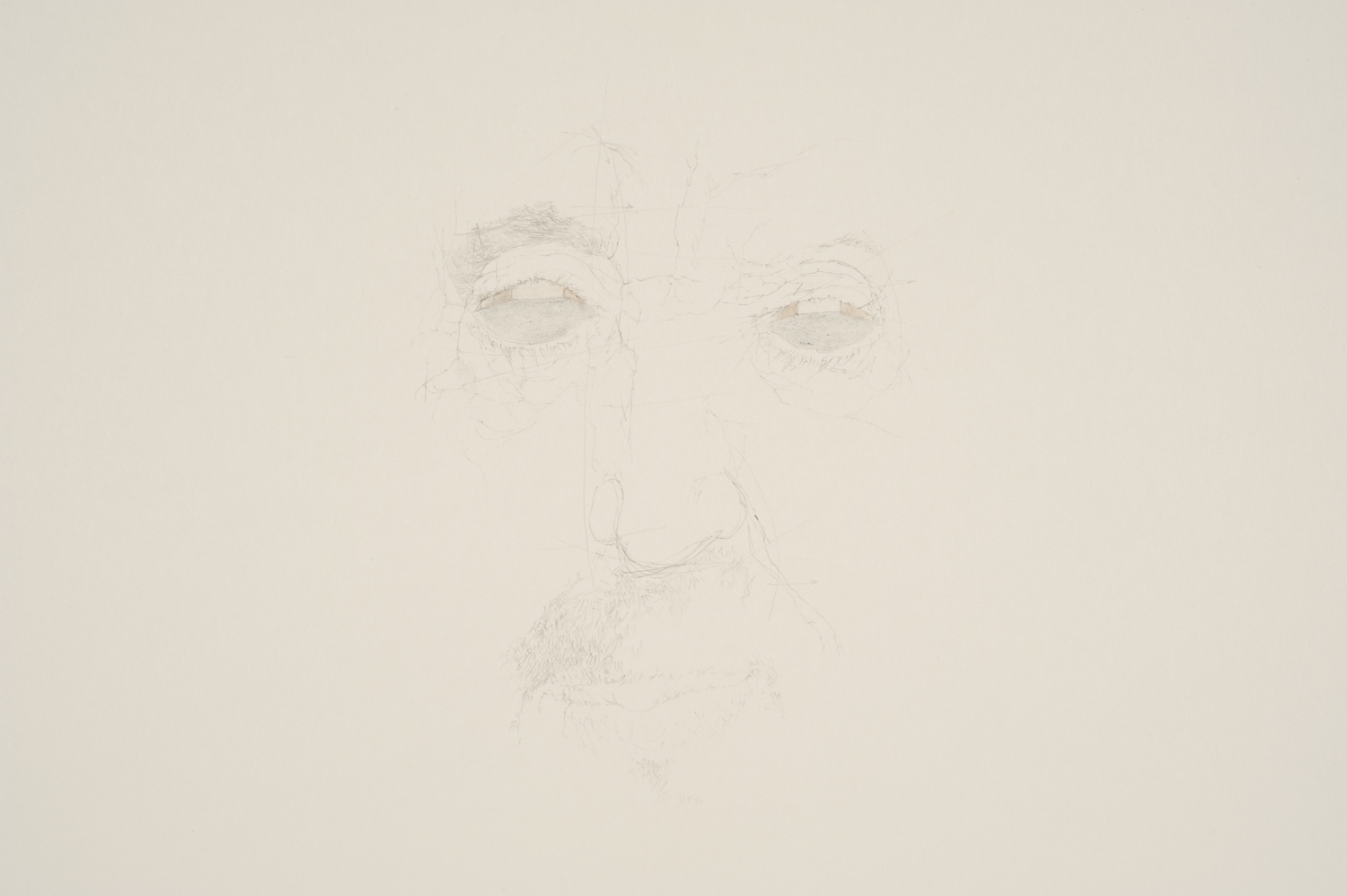 #7 DETAIL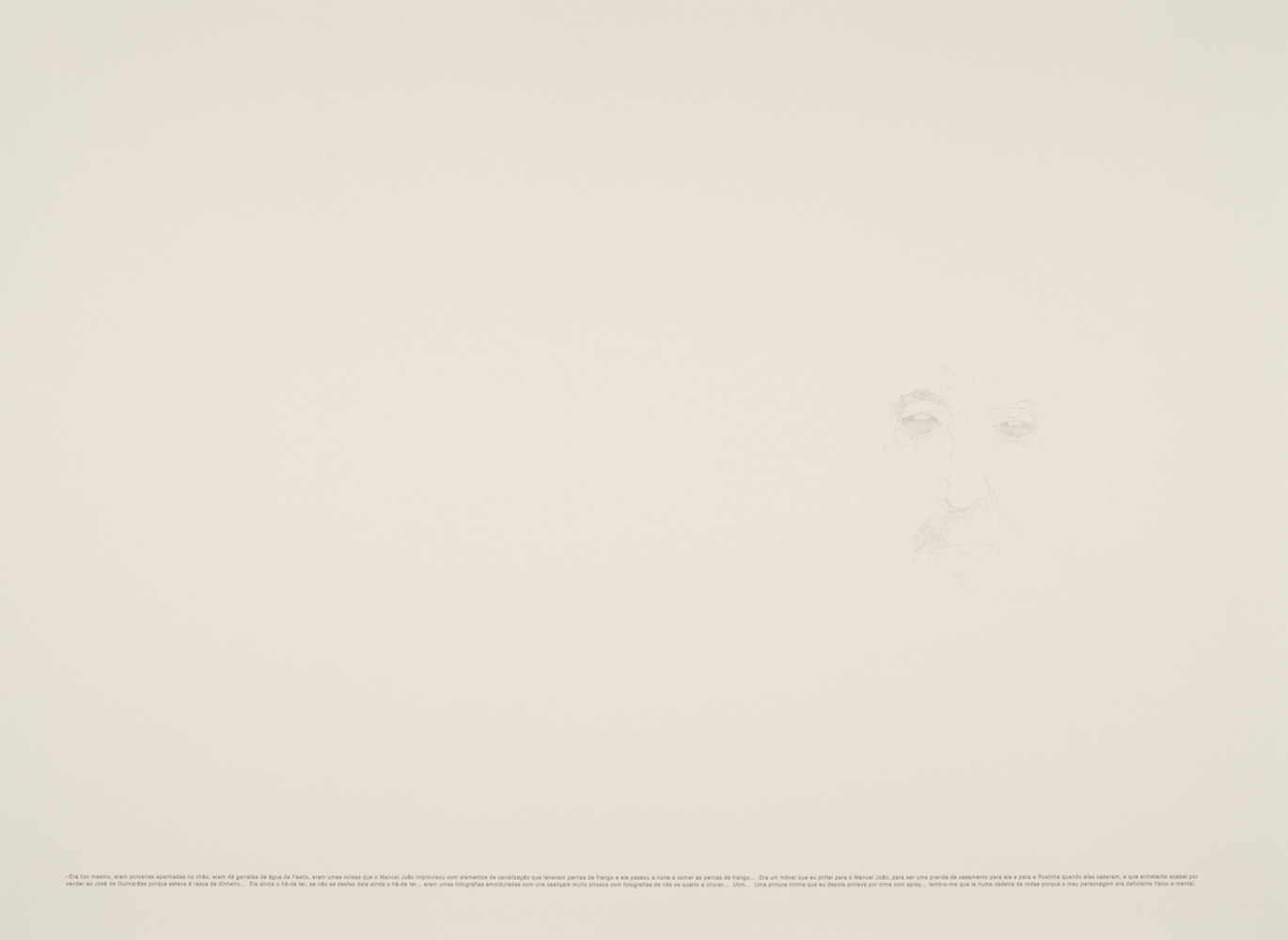 #7 CLICK TWICE TO READ THE TEXT
– It really was rubbish, it was stuff picked up from the floor, there were 49 Fastio water bottles, there were some things that Manuel João had improvised out of bits of plumbing that had chicken drumsticks, and he spent the night eating the chicken drumsticks... There was a piece of furniture I'd painted for Manuel João, as a wedding gift for him and Rosinha for when they got married and which I ended up selling to José de Guimarães because I needed the money... He must still have it, if he hasn't got rid of it yet he'll still have it... there were some framed photographs with some really tacky candlesticks with photographs of the four of us crying.... um... One of my paintings that later I spray-painted over... I remember I was in a wheelchair because my character was physically and mentally handicapped.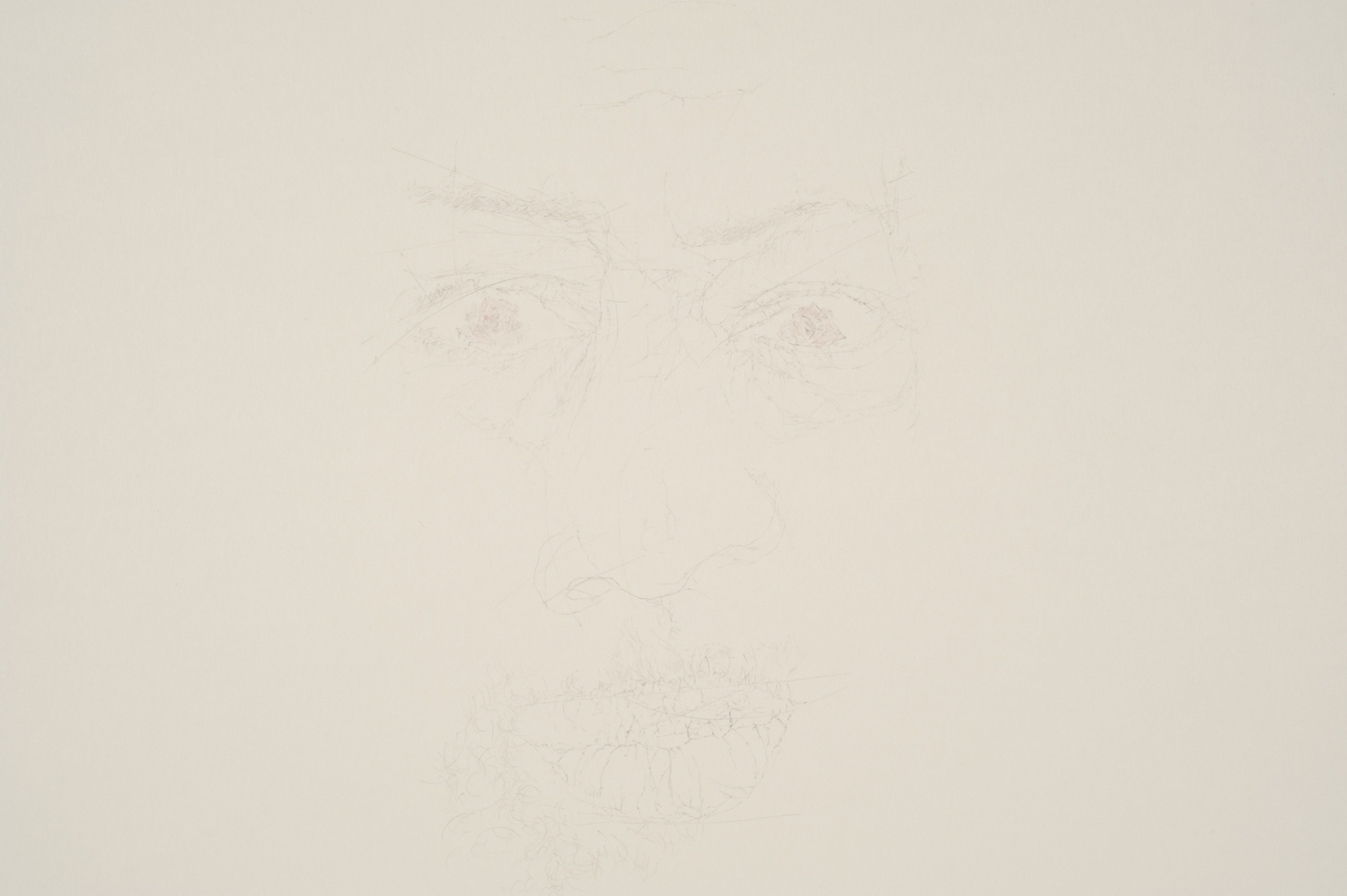 #8 DETAIL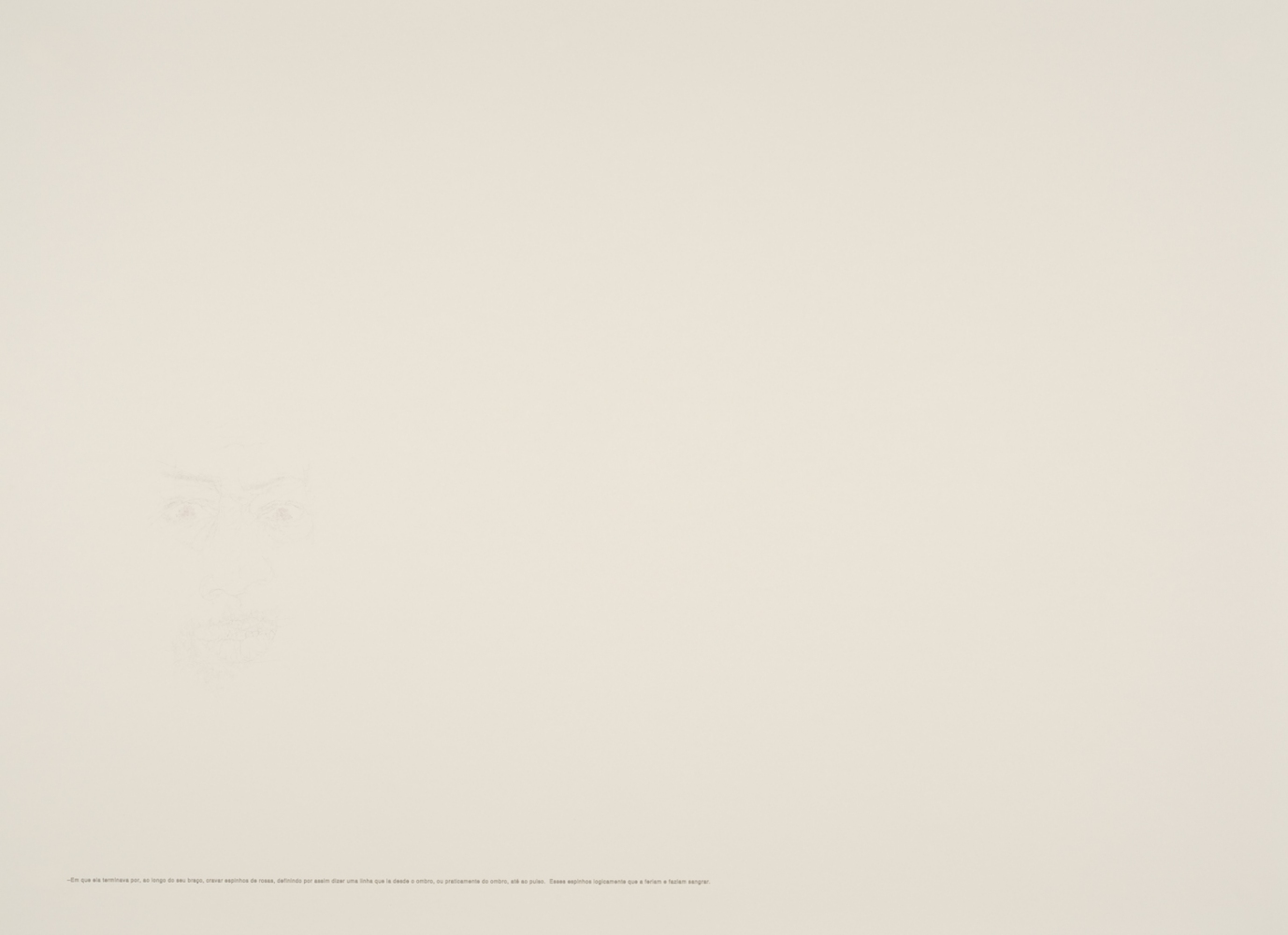 #8 CLICK TWICE TO READ THE TEXT
– She finished by pressing rose thorns into her arm, delineating a line so to speak, which went from her shoulder, or practically her shoulder, down to her wrist. Obviously the thorns wounded her and made her bleed.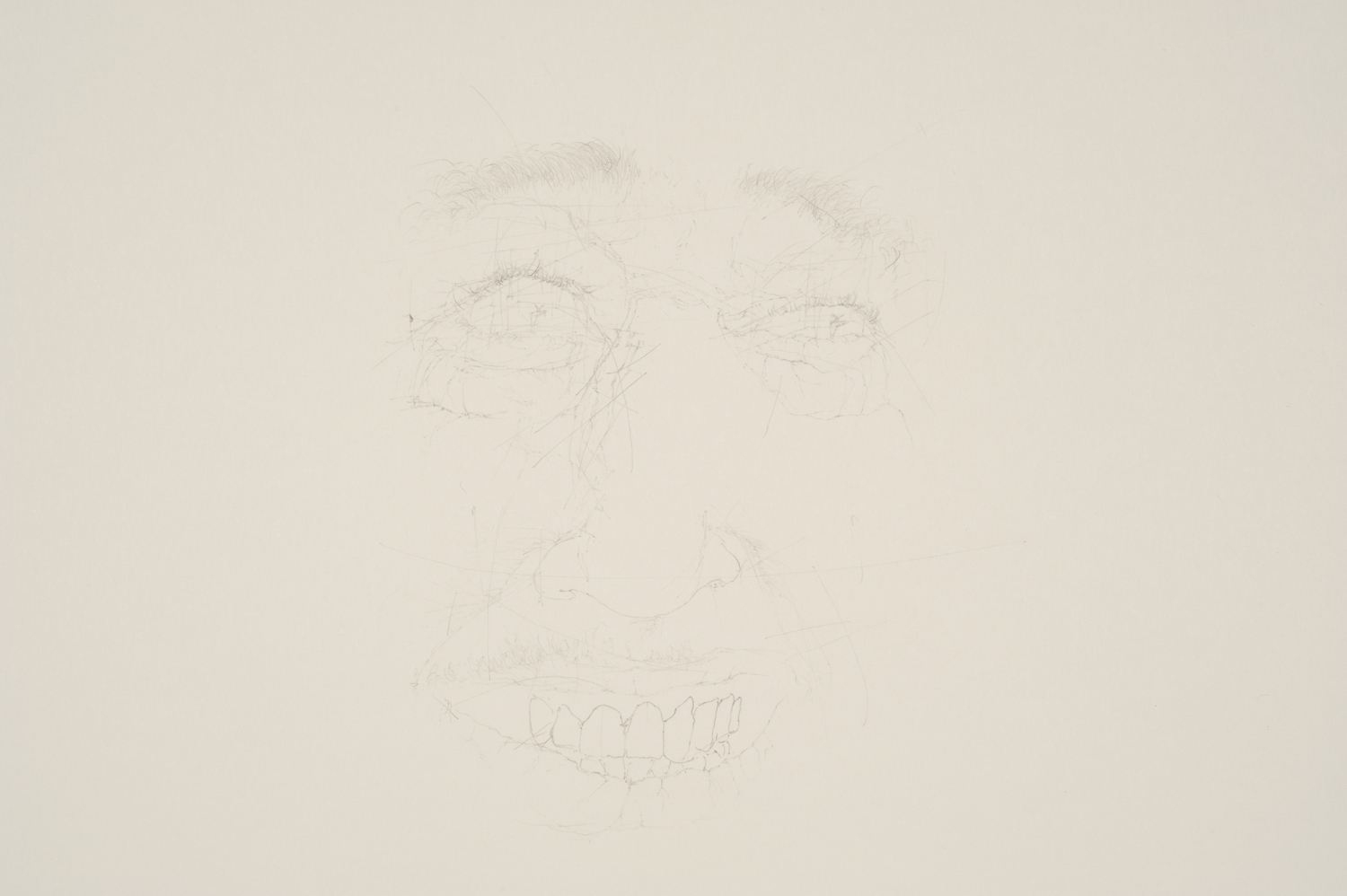 #9 DETAIL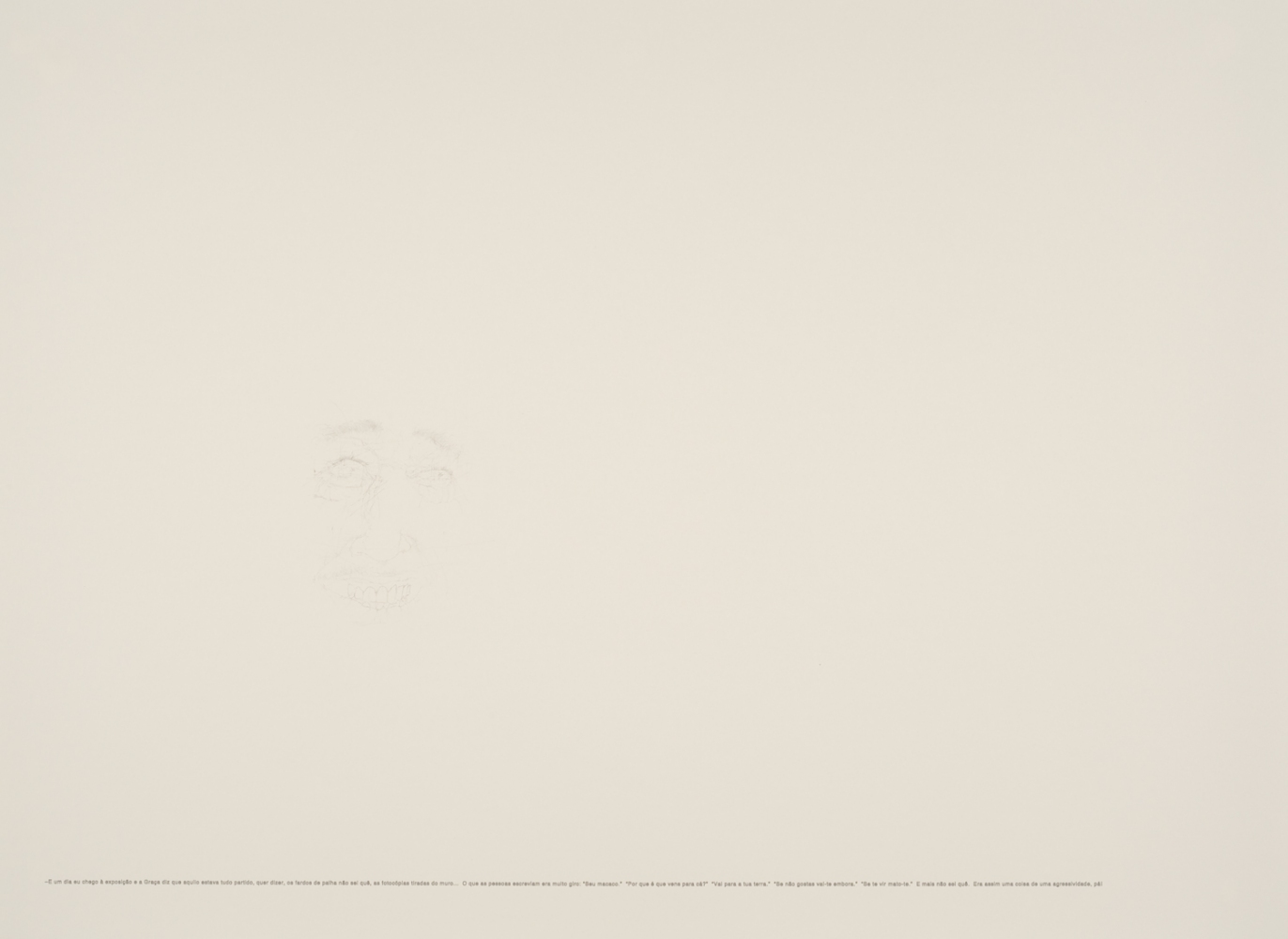 #9 CLICK TWICE TO READ THE TEXT
– And one day I got to the exhibition and Graça said that everything had been smashed up, meaning the bales of straw were all over the place, the photocopies ripped down from the wall... And what people had written was really funny: 'You monkey.' 'Why are you here?', 'Go home.' 'If you don't like it, go away.' 'If I ever see you, I'll kill you.' And loads of other stuff. It was really aggressive, man!...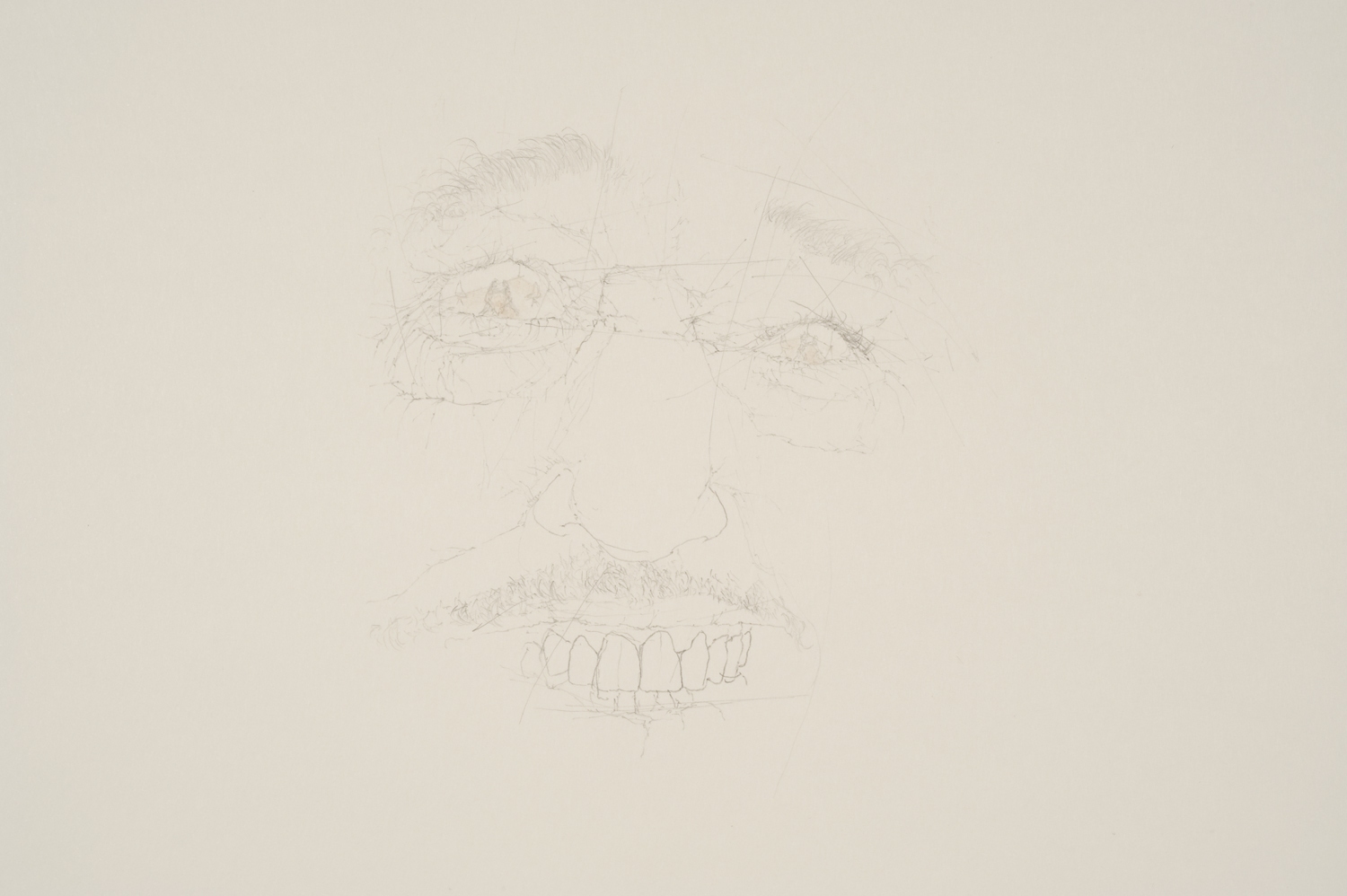 #10 DETAIL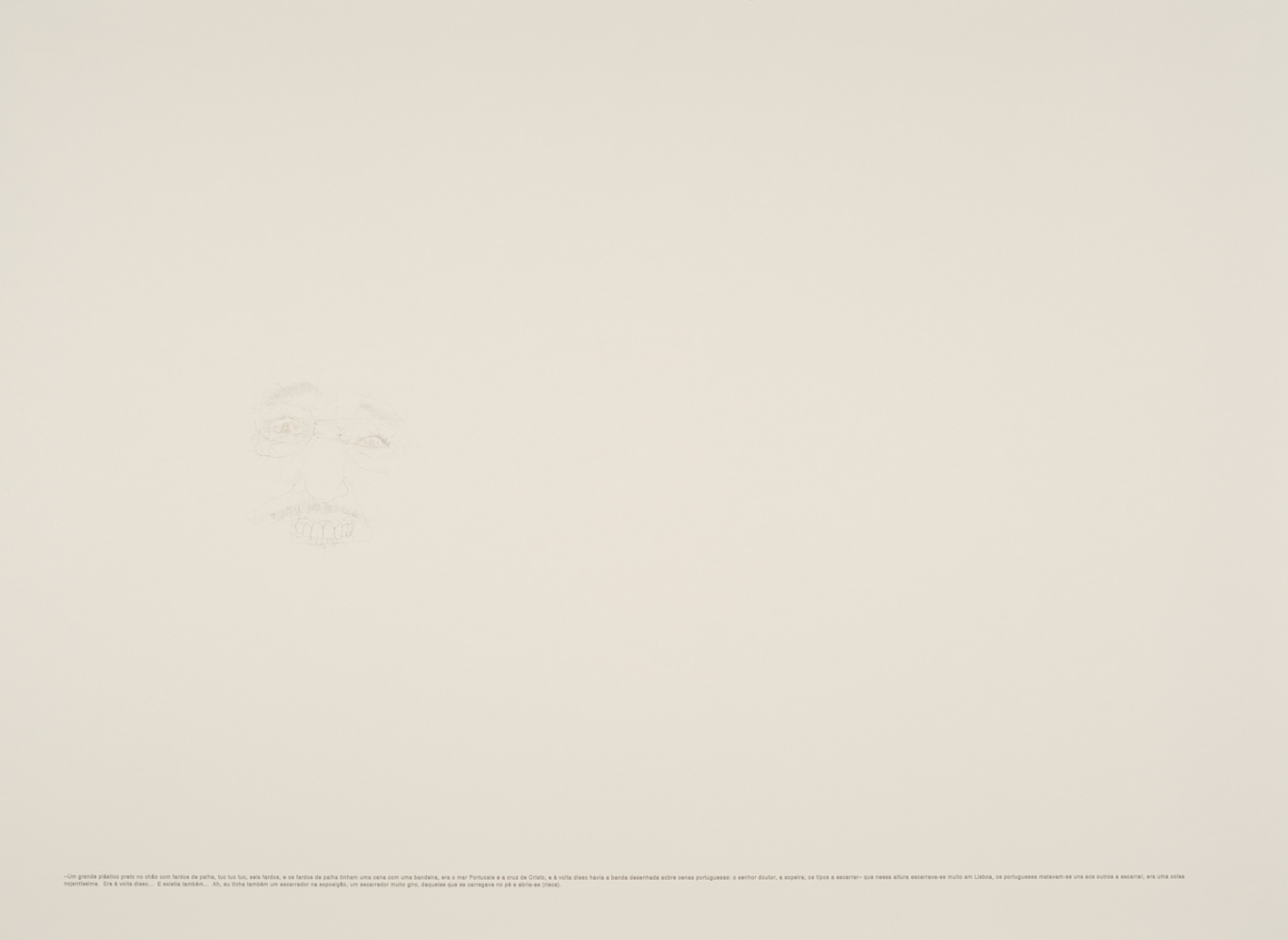 #10 CLICK TWICE TO READ THE TEXT
– A big black plastic sheet on the floor with straw bales, just like that, six bales tuc tuc tuc. And on the bales there was a stick with a flag, it was the sea of Portucale and the Cross of Christ, and round it the comic strip about Portuguese life: the doctor, the maid, people spitting – at that time people spat a lot in Lisbon, the Portuguese were killing each other with spit, it was disgusting. It was about that... And there was also... Ah, I also had a spittoon in the exhibition, a really nifty spittoon, one of those that you operated with your foot and it opened (laughter).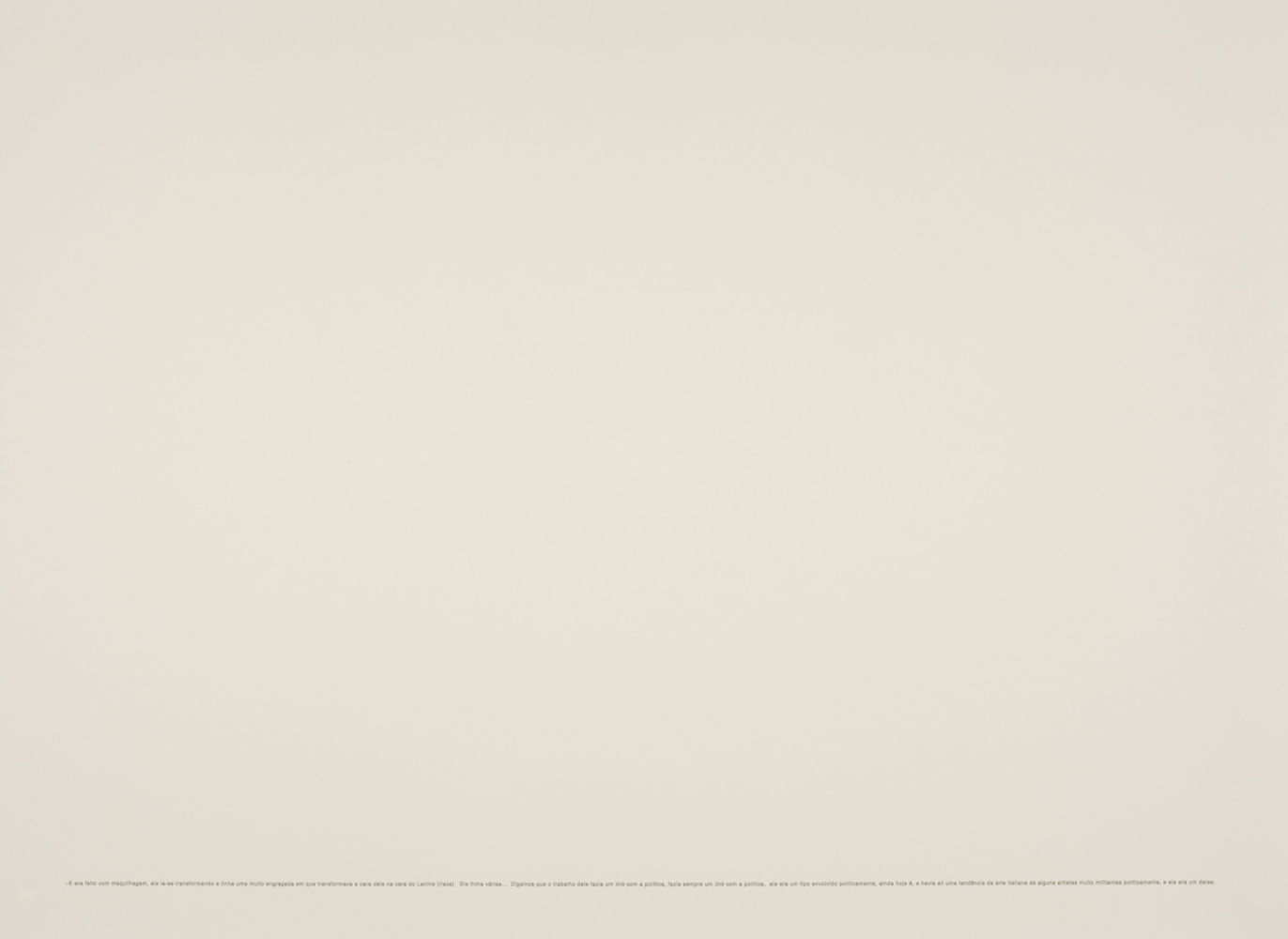 #11 CLICK TWICE TO READ THE TEXT
– It was done with make-up, he transformed himself and there was a really funny one when he made himself up like Lenin (laughter). He did various different ones... You could say there was always a political connection in his work, he always connected with politics, he was politically engaged, he still is, and there was a tendency, influenced by Italian art, of very militant artists, and he was one of them.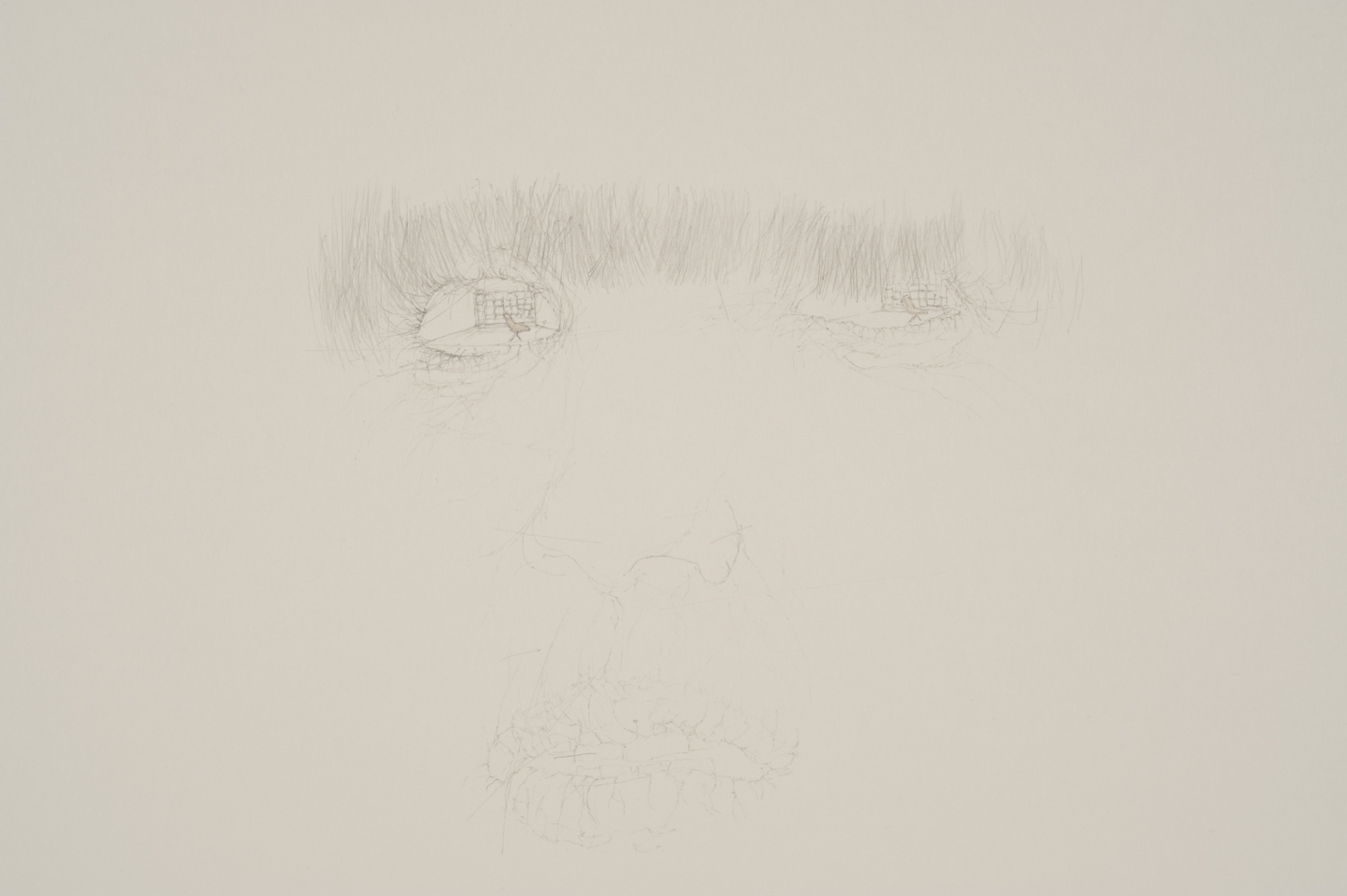 #12 DETAIL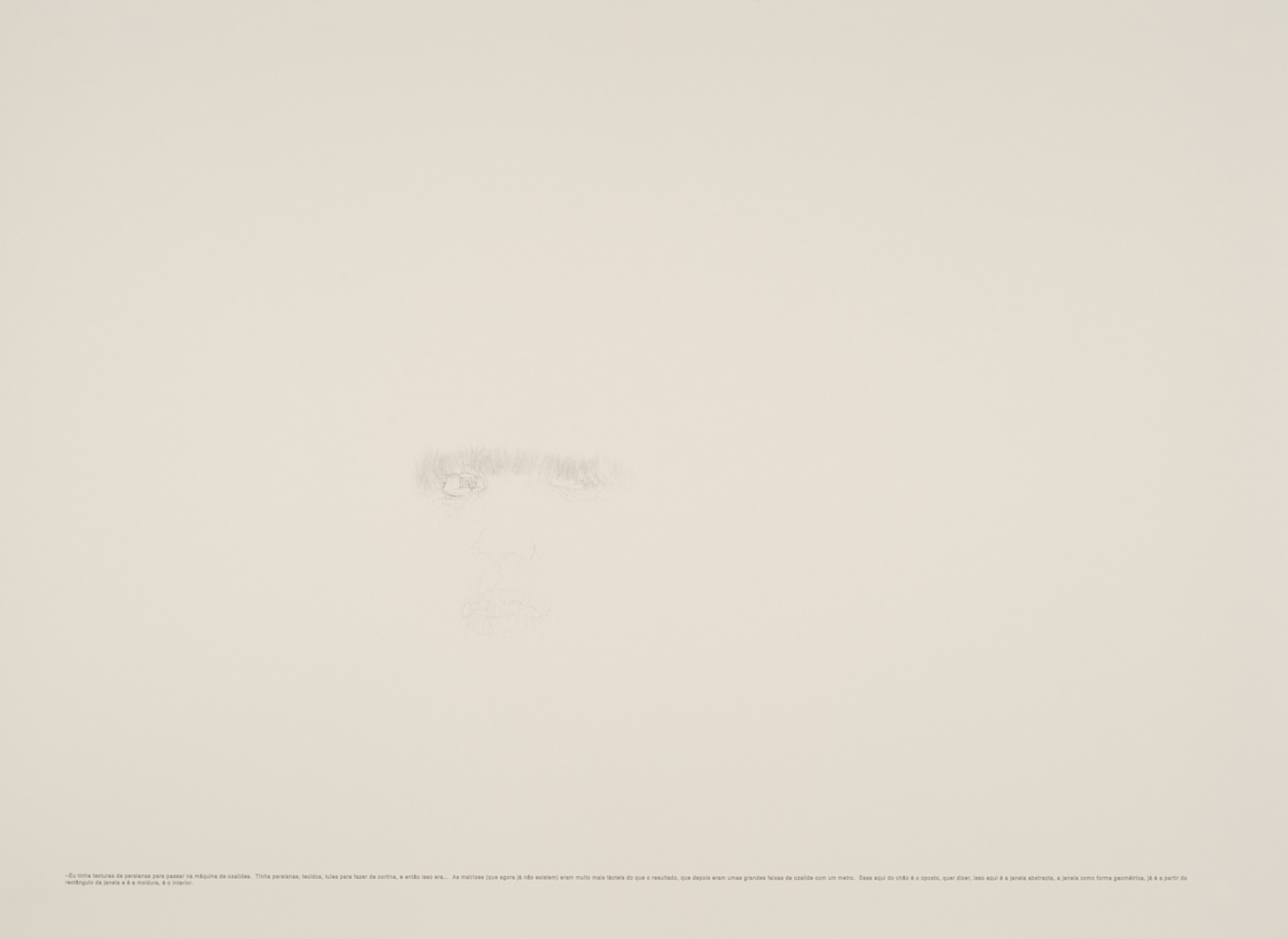 #12 CLICK TWICE TO READ THE TEXT
– I had some blind material to run through the blueprint machine. I had blinds, fabrics, curtain net, and so that was it... The originals (which don't exist any more) were much more tactile than the result, which were great big blueprint strips of about a metre. This thing on the floor is the opposite, I mean, this is an abstract window, a window as a geometric form, it's based on the rectangle of the window and the frame, it's the interior.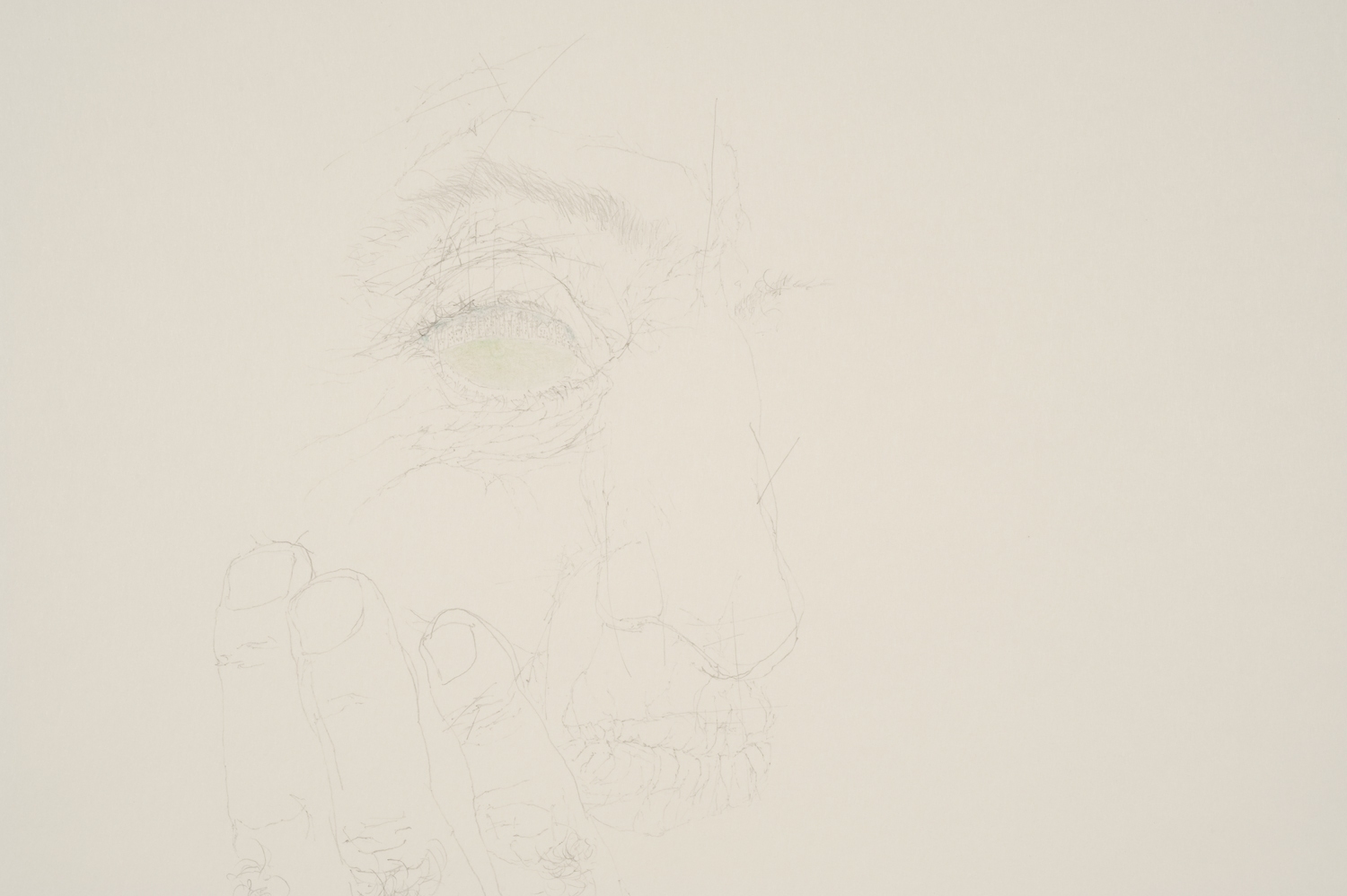 #13 DETAIL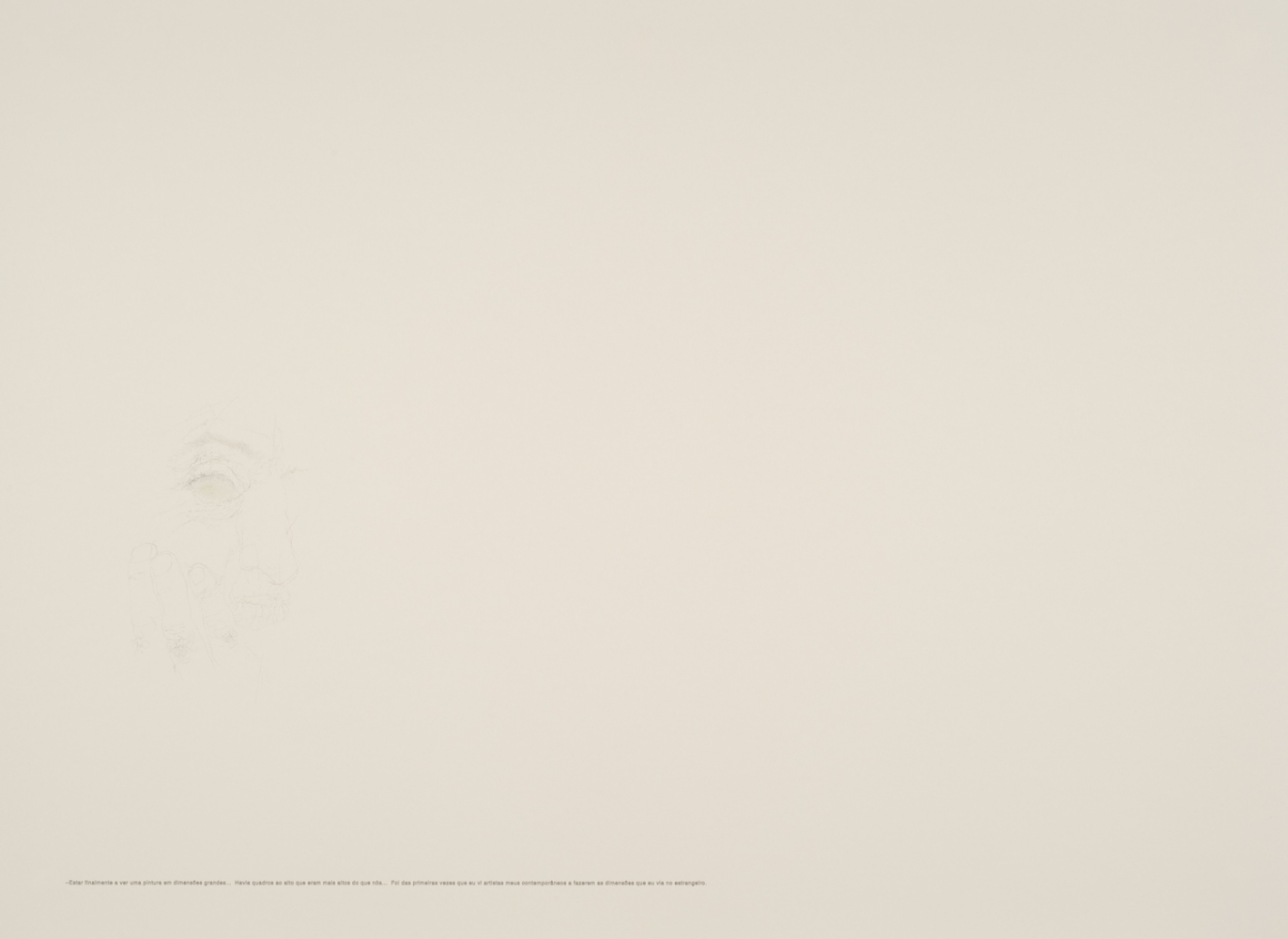 #13 CLICK TWICE TO READ THE TEXT
– Finally seeing a big painting... There were paintings up there that were taller than us... It was one of the first times that I had seen my fellow Portuguese artists produce paintings of the size I had seen abroad.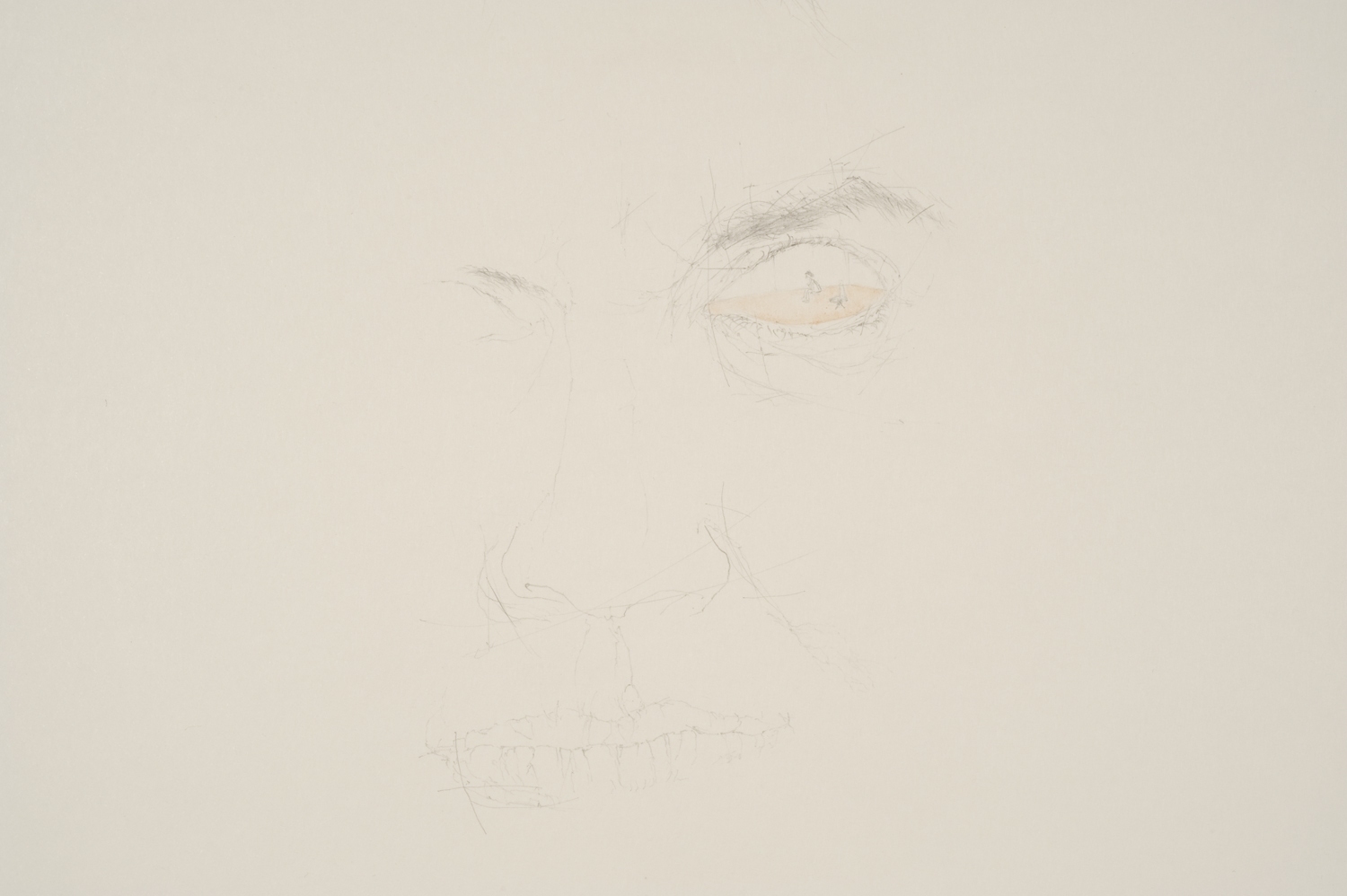 #14 DETAIL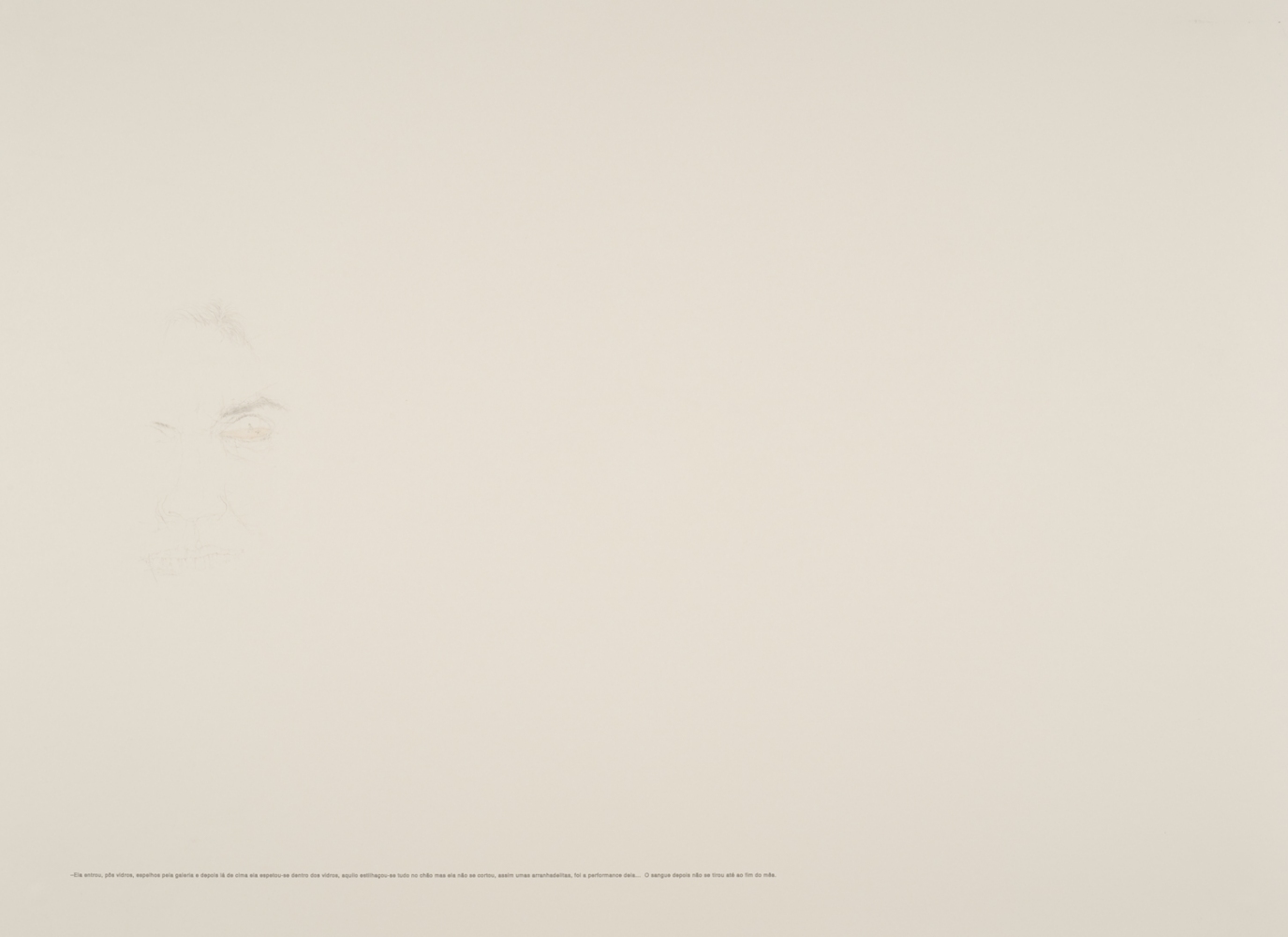 #14 CLICK TWICE TO READ THE TEXT
– She came in, she put glass, mirrors around the gallery and then, from above, she crashed into the glass, it shattered all over the floor but she didn't cut herself, just a few little scratches, that was her performance... The blood wasn't cleaned up until the end of the month.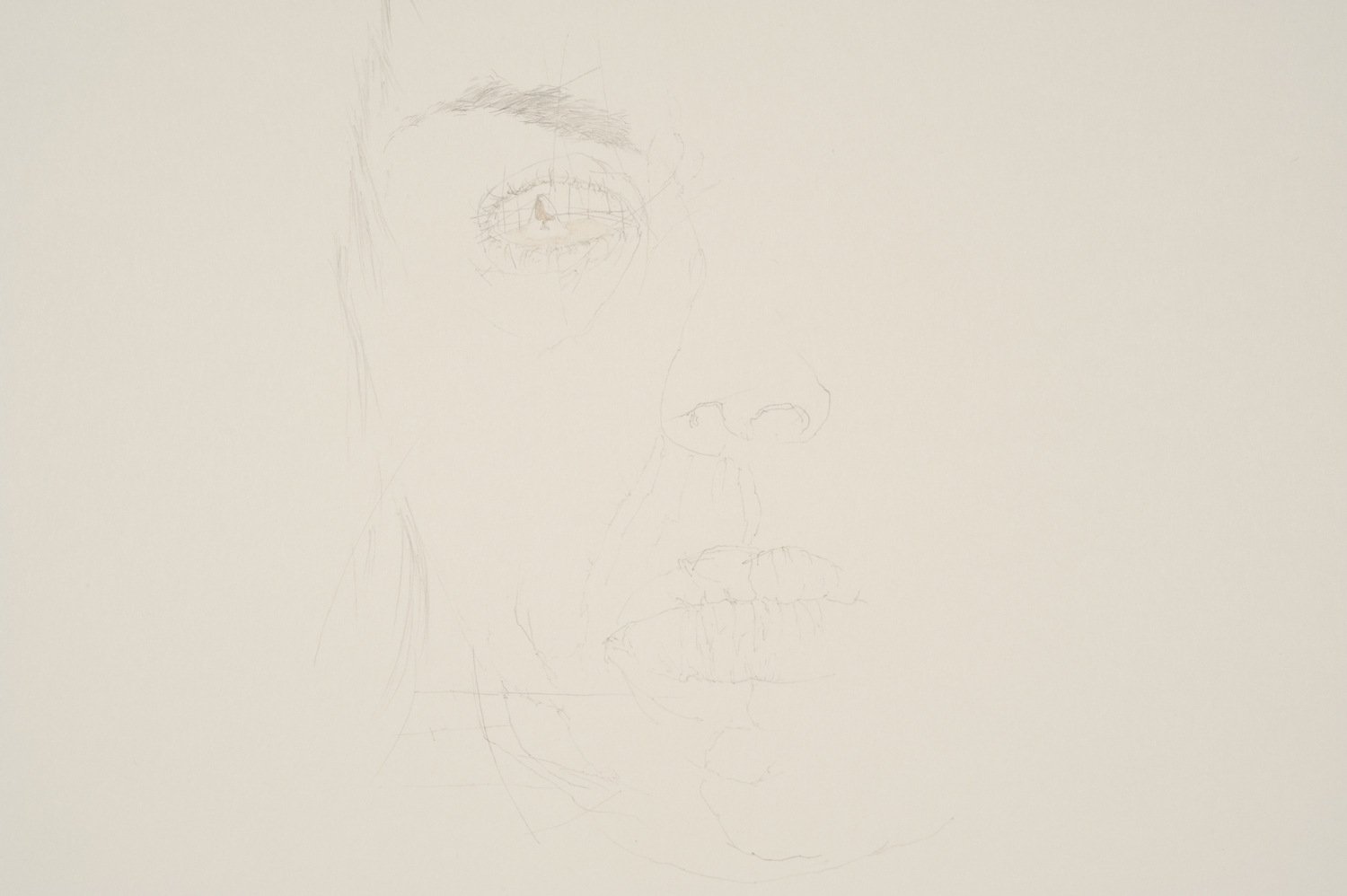 #15 DETAIL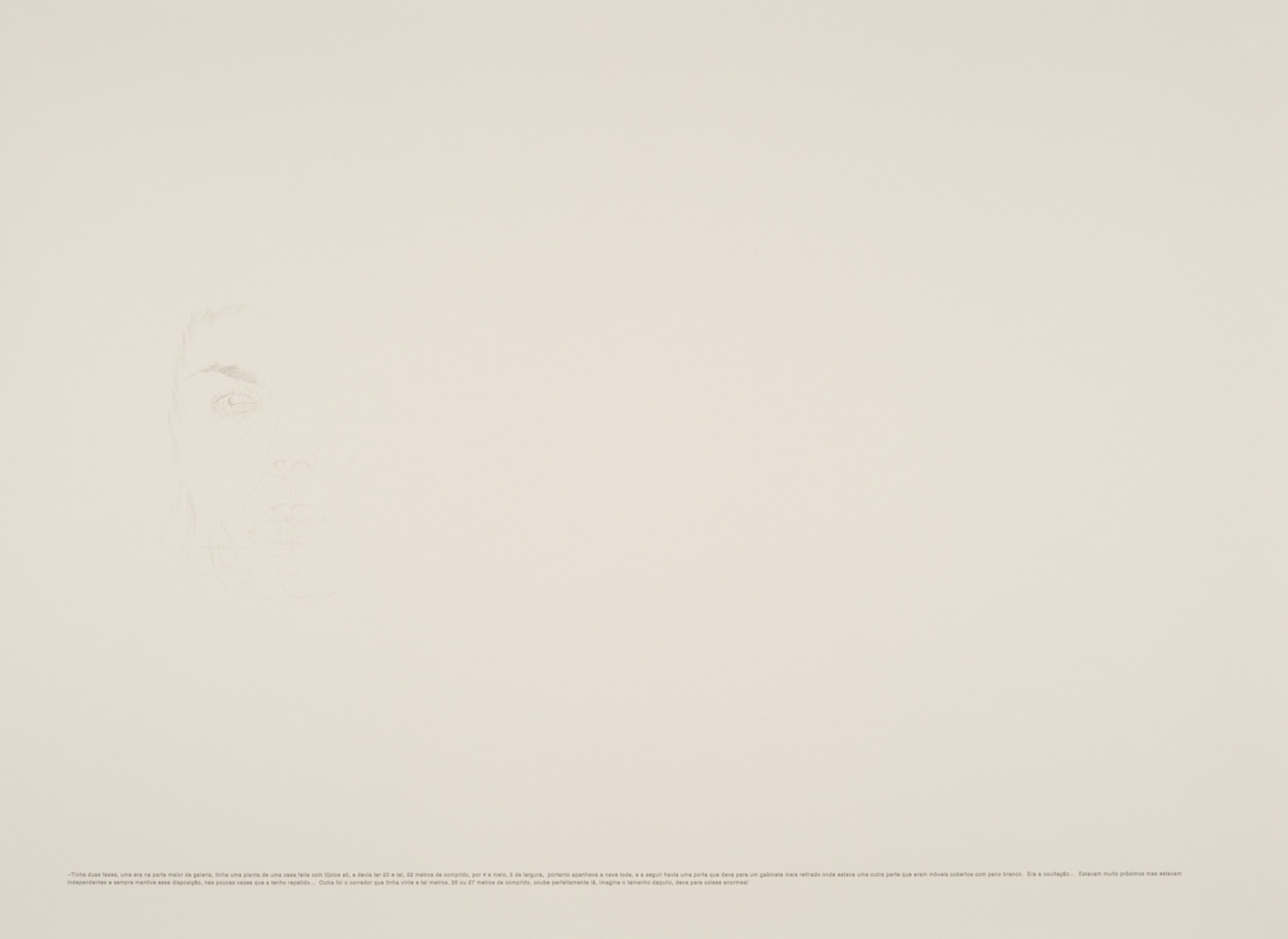 #15 CLICK TWICE TO READ THE TEXT
– There were two sections, one was in the main part of the gallery, there was a plan of a house just made of bricks, it must have been twenty or twenty-two metres long, by four and a half or five wide, so it took up the whole room. And further on there was a door which led to a small, more tucked away room where there was another part which consisted of furniture covered with a white sheet. It was a concealment. They were very close together but they were independent and I've always kept to this arrangement, the few times that I have repeated it... There was also the corridor which was twenty something, 26 or 27 metres long, it fitted perfectly, imagine the size of it, you could get enormous things in there!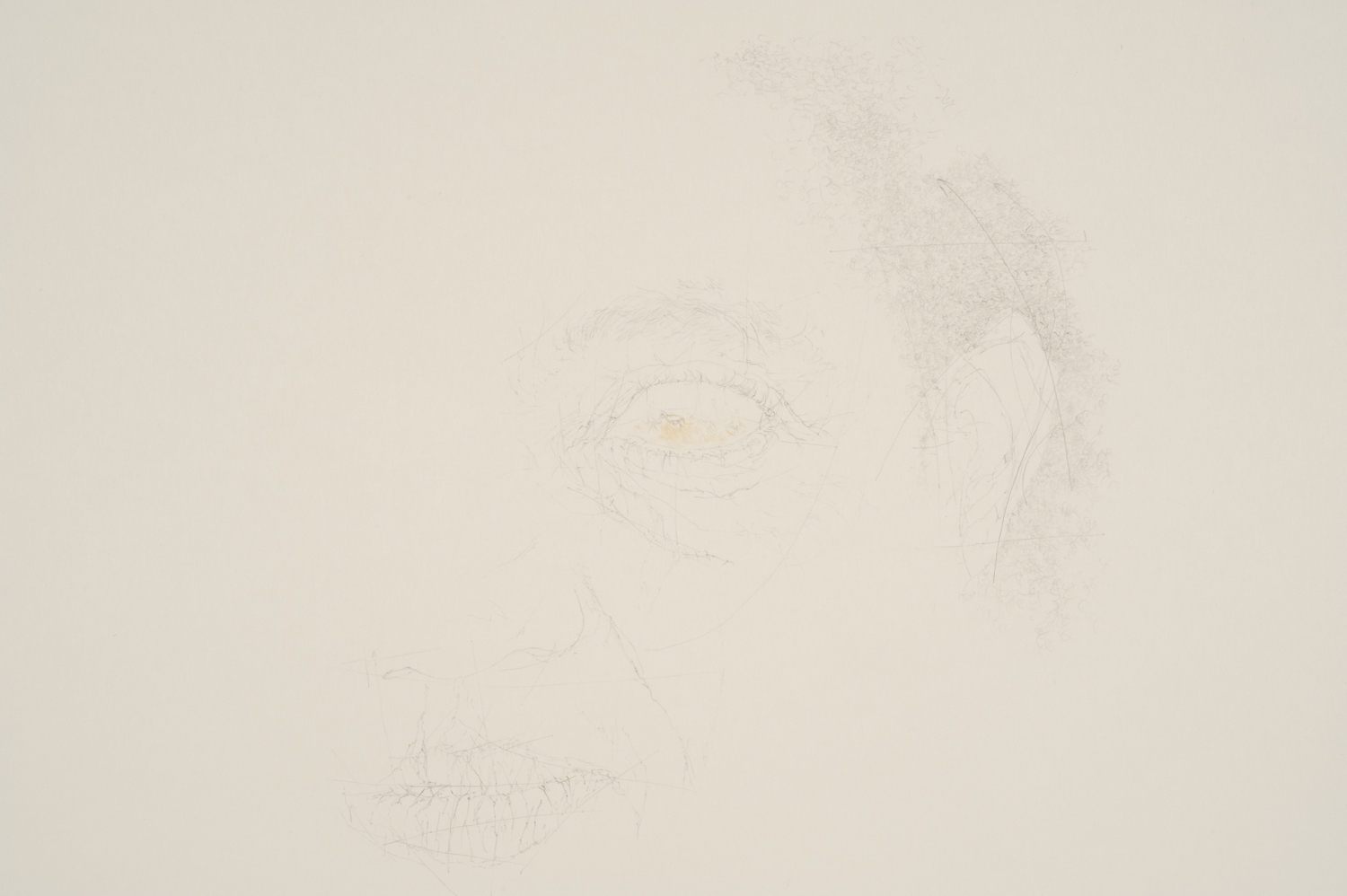 #16 DETAIL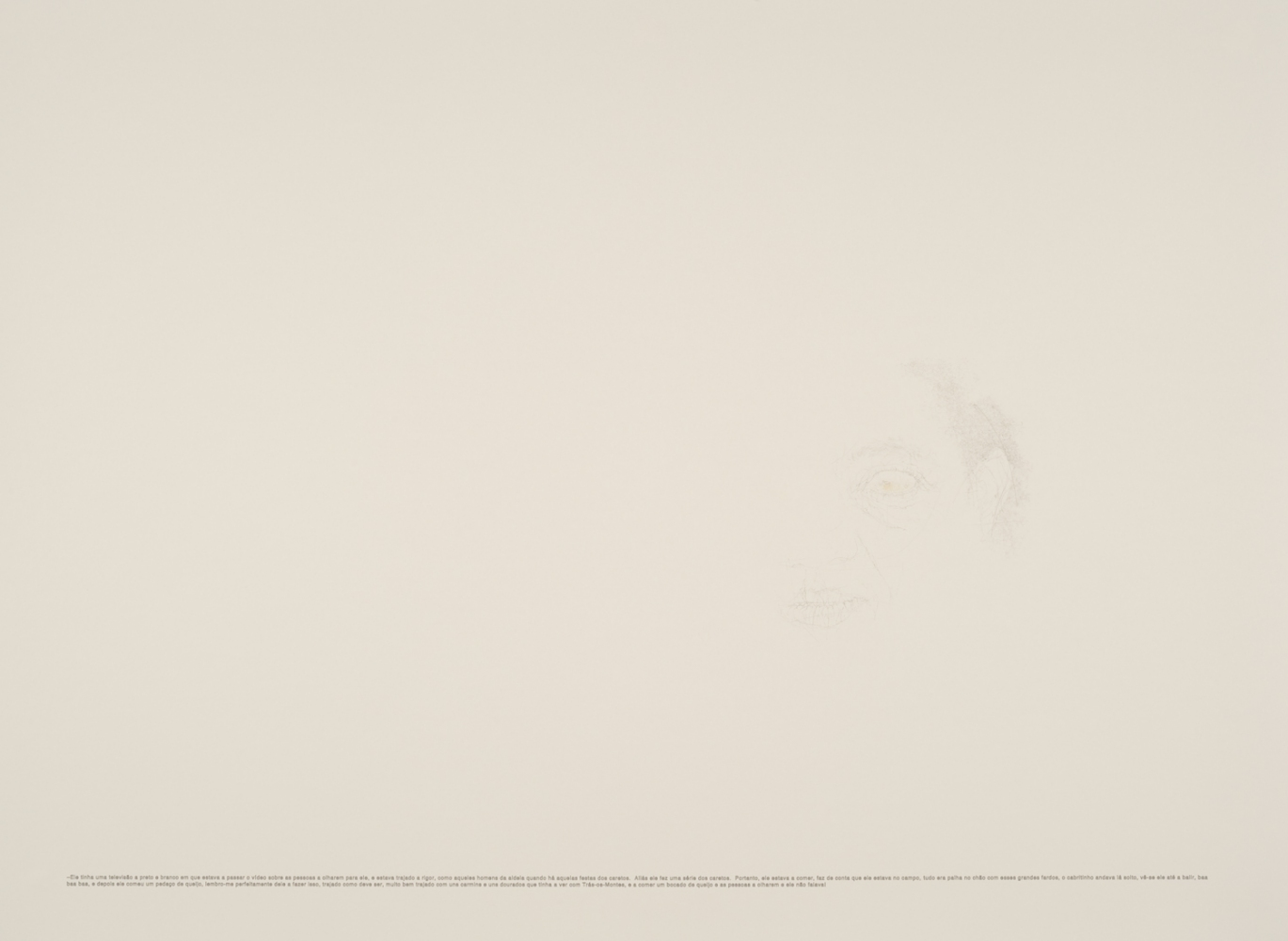 #16 CLICK TO READ THE TEXT
– He had a black and white television where he showed a video of people looking at him, and he was all dressed up, like a villager at one of those caretos carnivals. In fact he created a series of caretos. So, he was eating, he pretended to be in the countryside, it was all straw on the floor with those big bales, the little goat kid was running around loose, it even bleated, baa baa baa, and then he ate a piece of cheese, I clearly remember him doing that, dressed up all properly, really dressed up in reds and golden yellow like in Trás-os-Montes, eating a piece of cheese and people looking at him and he wasn't saying anything!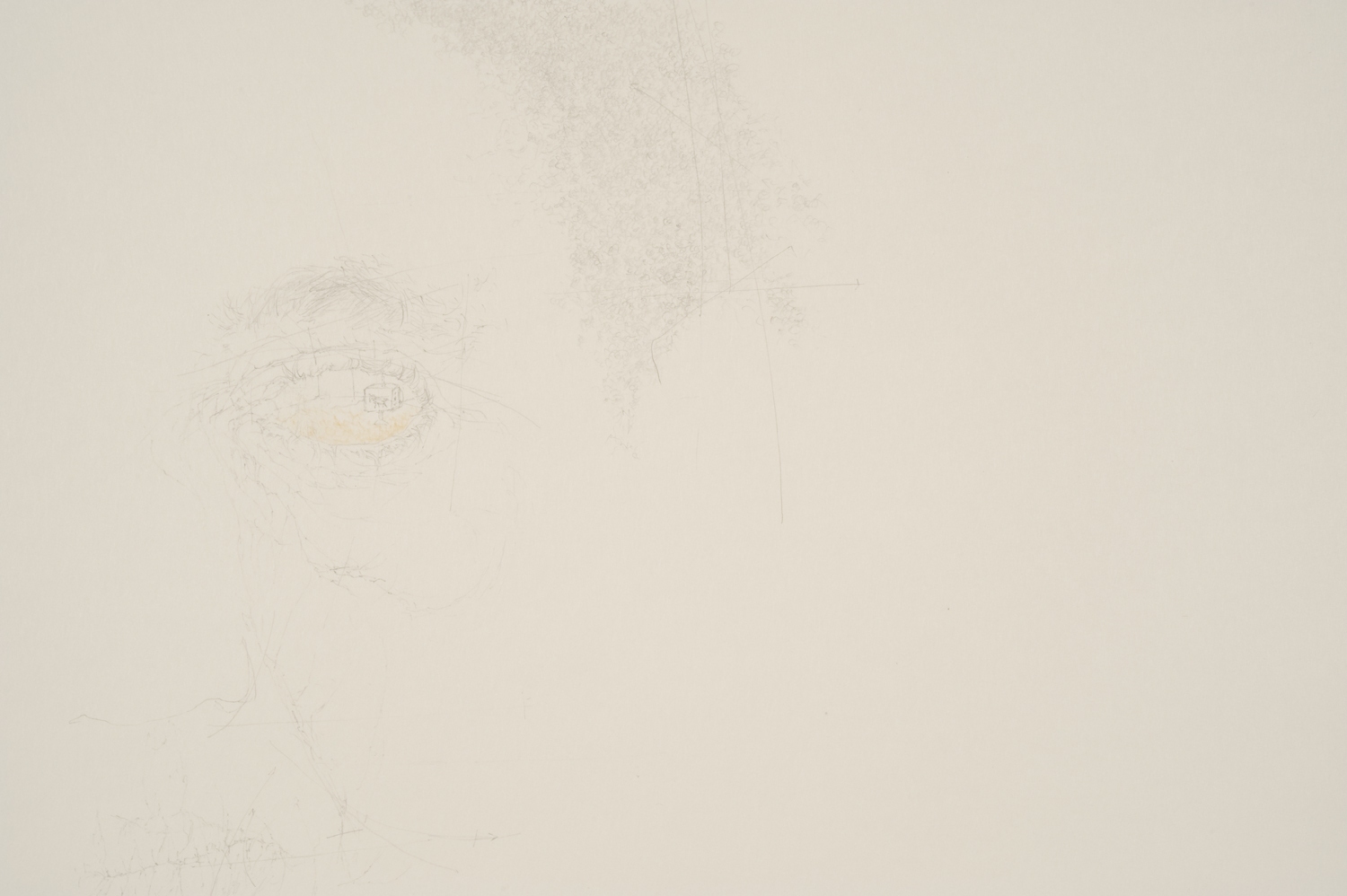 #17 DETAIL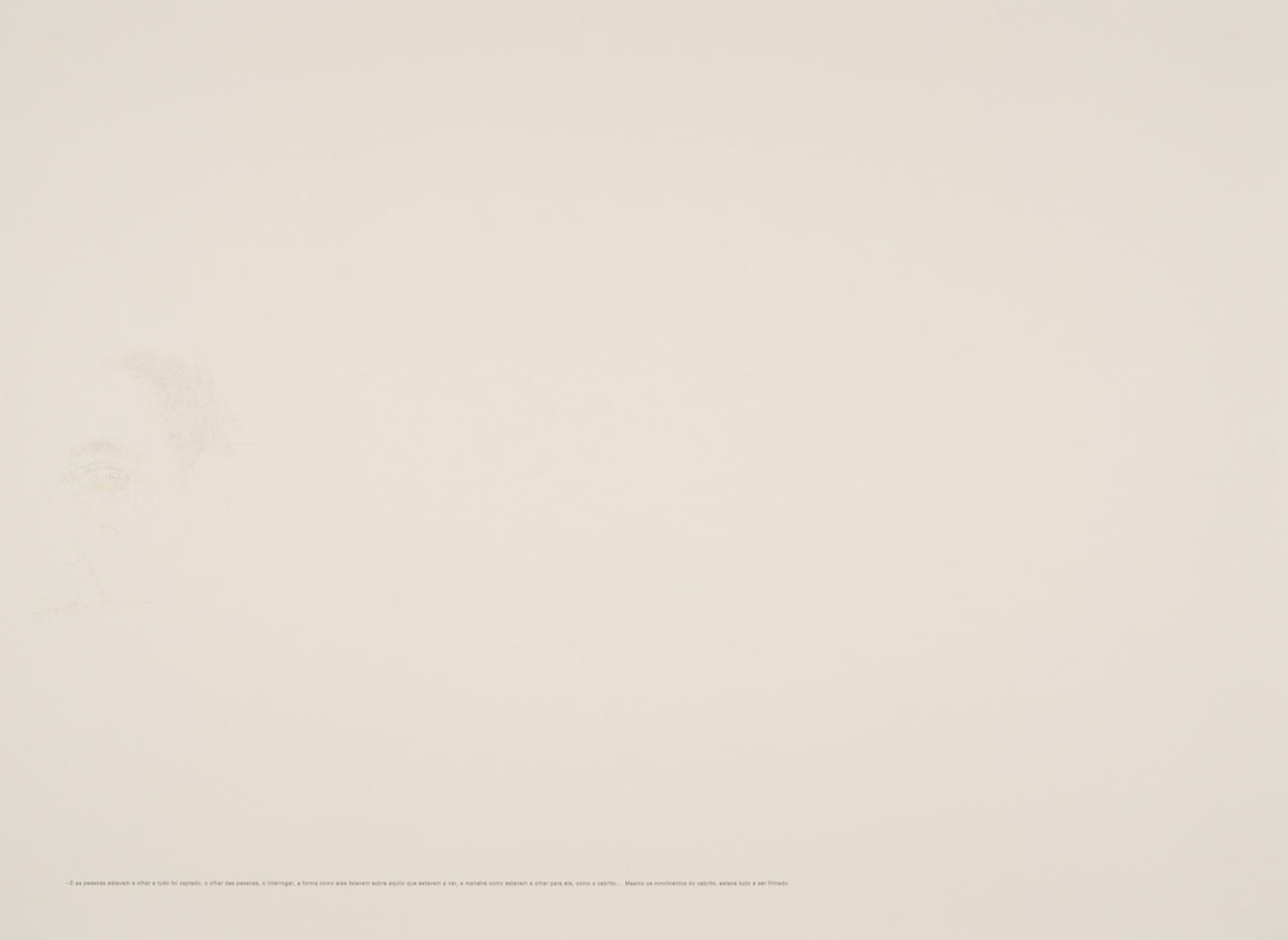 #17 CLICK TWICE TO READ THE TEXT
– And people were watching and everything was captured the way people looked, the questioning, the way they talked about what they were seeing, the way they were looking at him, Even the movements of the the goat, everything was being filmed.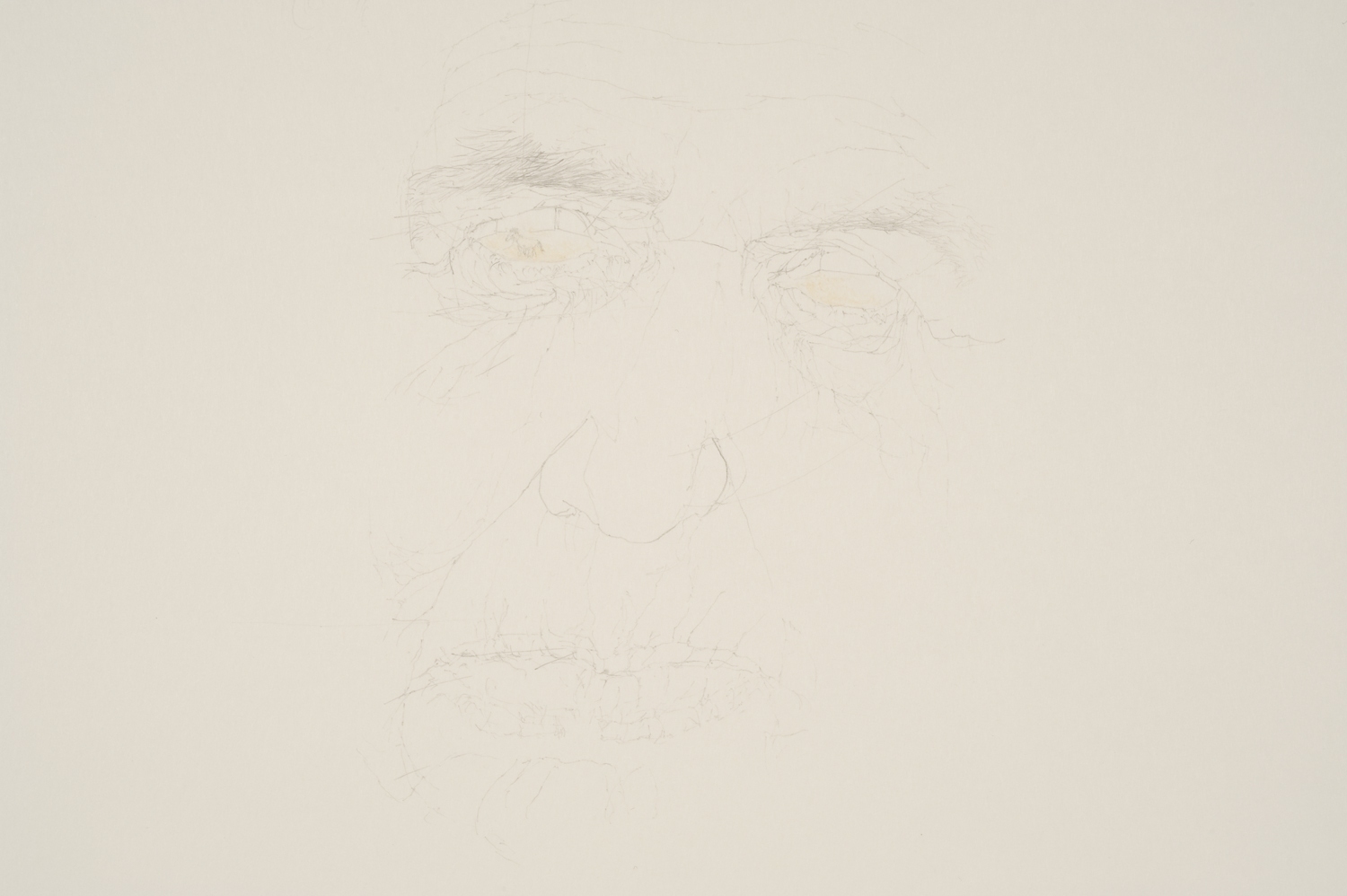 #18 DETAIL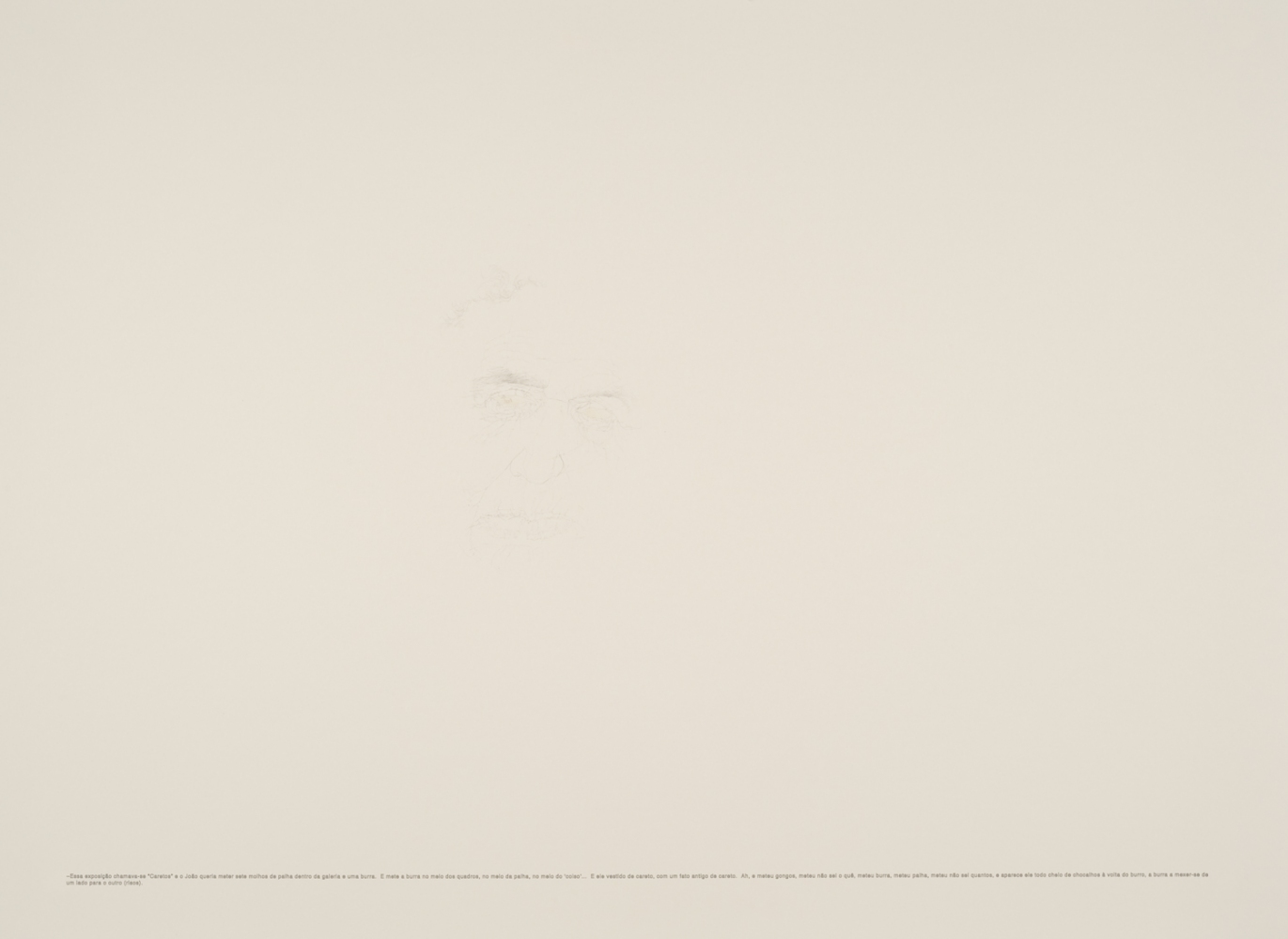 #18 CLICK TWICE TO READ THE TEXT
– This exhibition was called 'Caretos' and João wanted to put seven bundles of straw in the gallery and a donkey. And he puts the donkey in the middle of the paintings, in the middle of the straw, in the middle of this 'thing'... And with him dressed as a careto, with the traditional careto outfit. Ah, and there were cowbells, a whole load of other stuff, donkey, straw, all sorts of stuff, and he appears all covered in bells next to the donkey, the donkey shifting from side to side (laughter).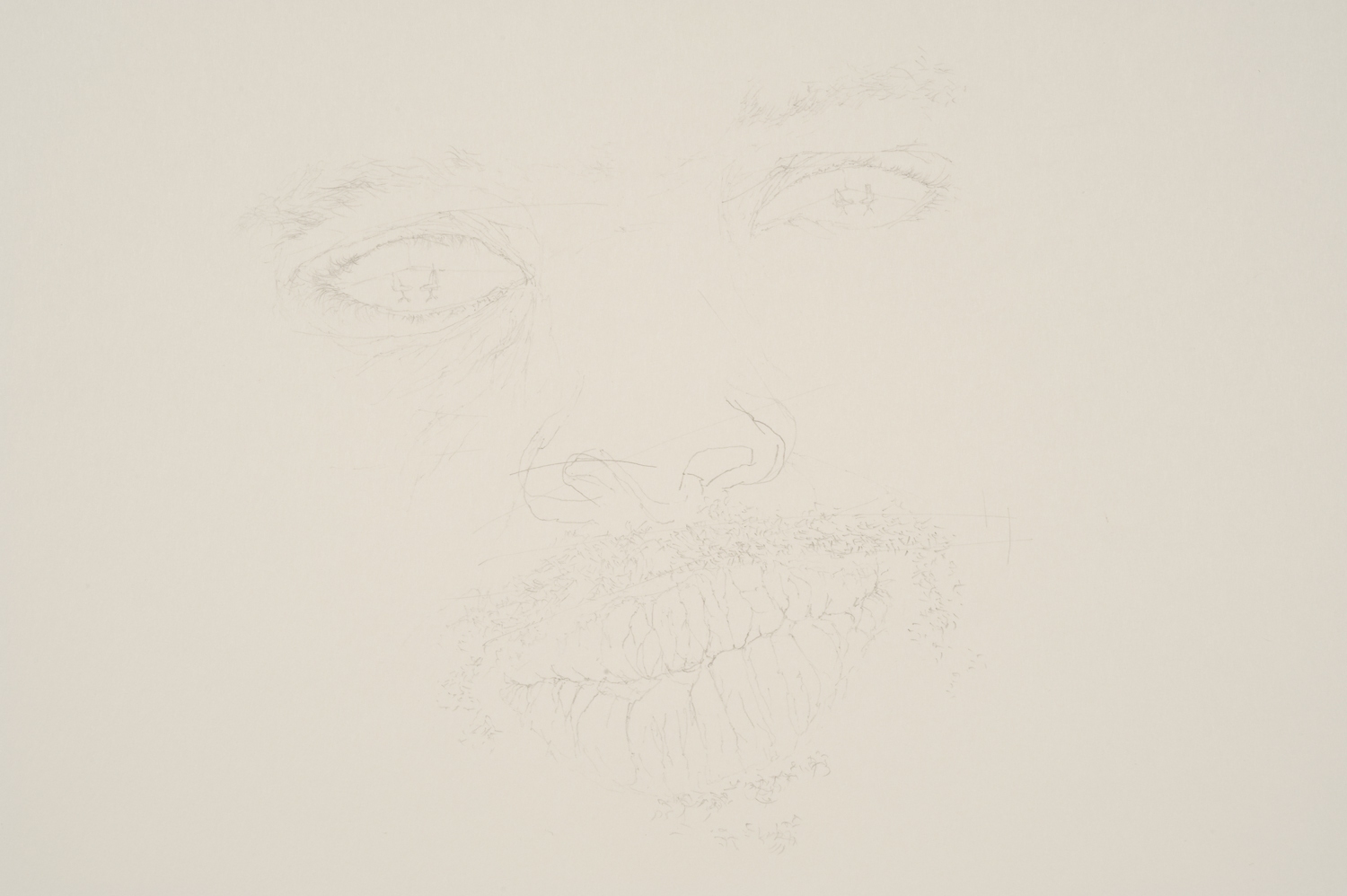 #19 DETAIL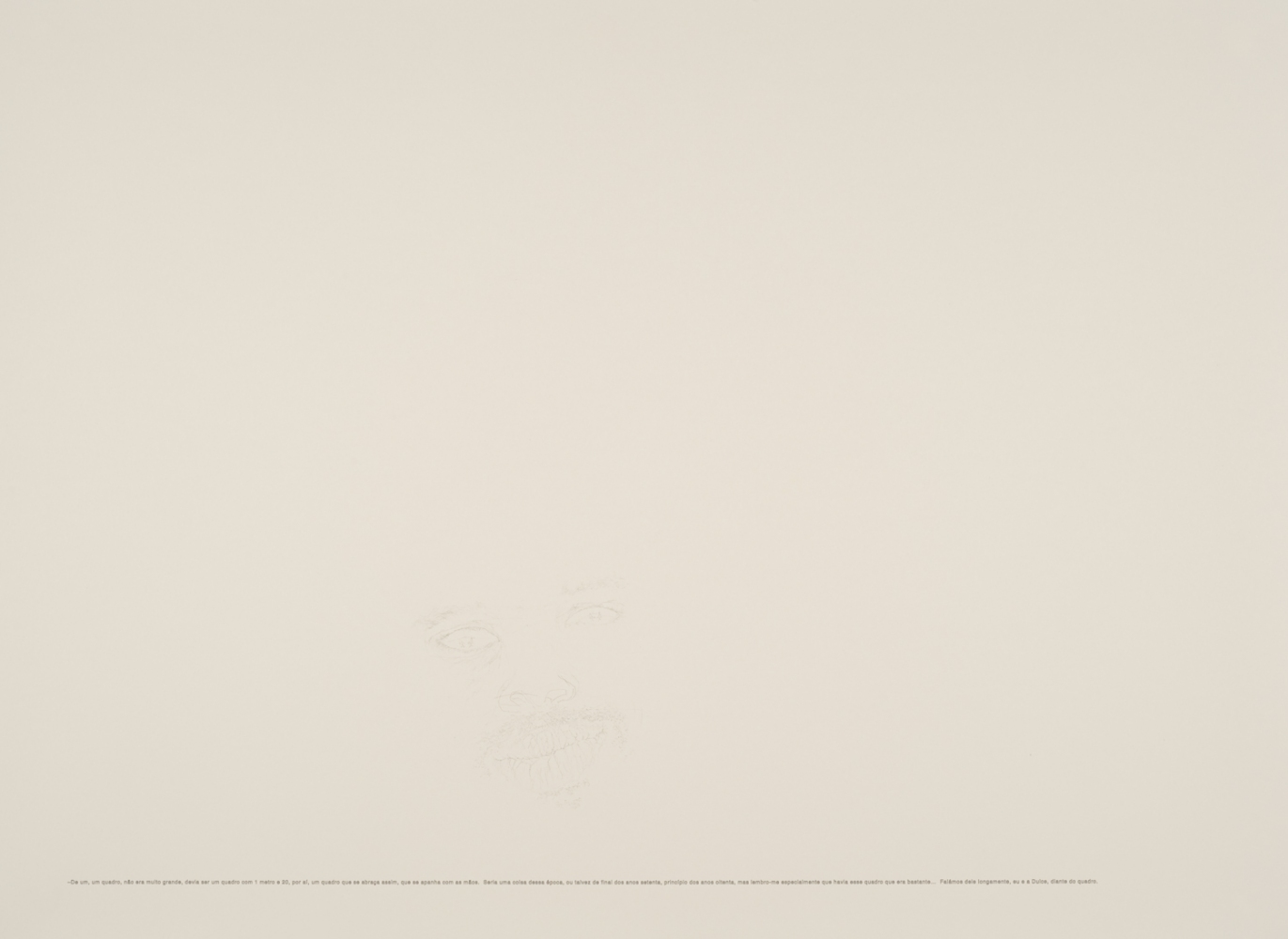 #19 CLICK TWICE TO READ THE TEXT
– Of a, a painting, it wasn't very big, it must have been just over a metre, about that, a painting about an arm span, like this. It would have been from that time, or maybe from the end of the seventies, beginning of the eighties, but I particularly remember that there was this painting that was sort of... We talked about it in for a long time, Dulce and I, in front of the painting.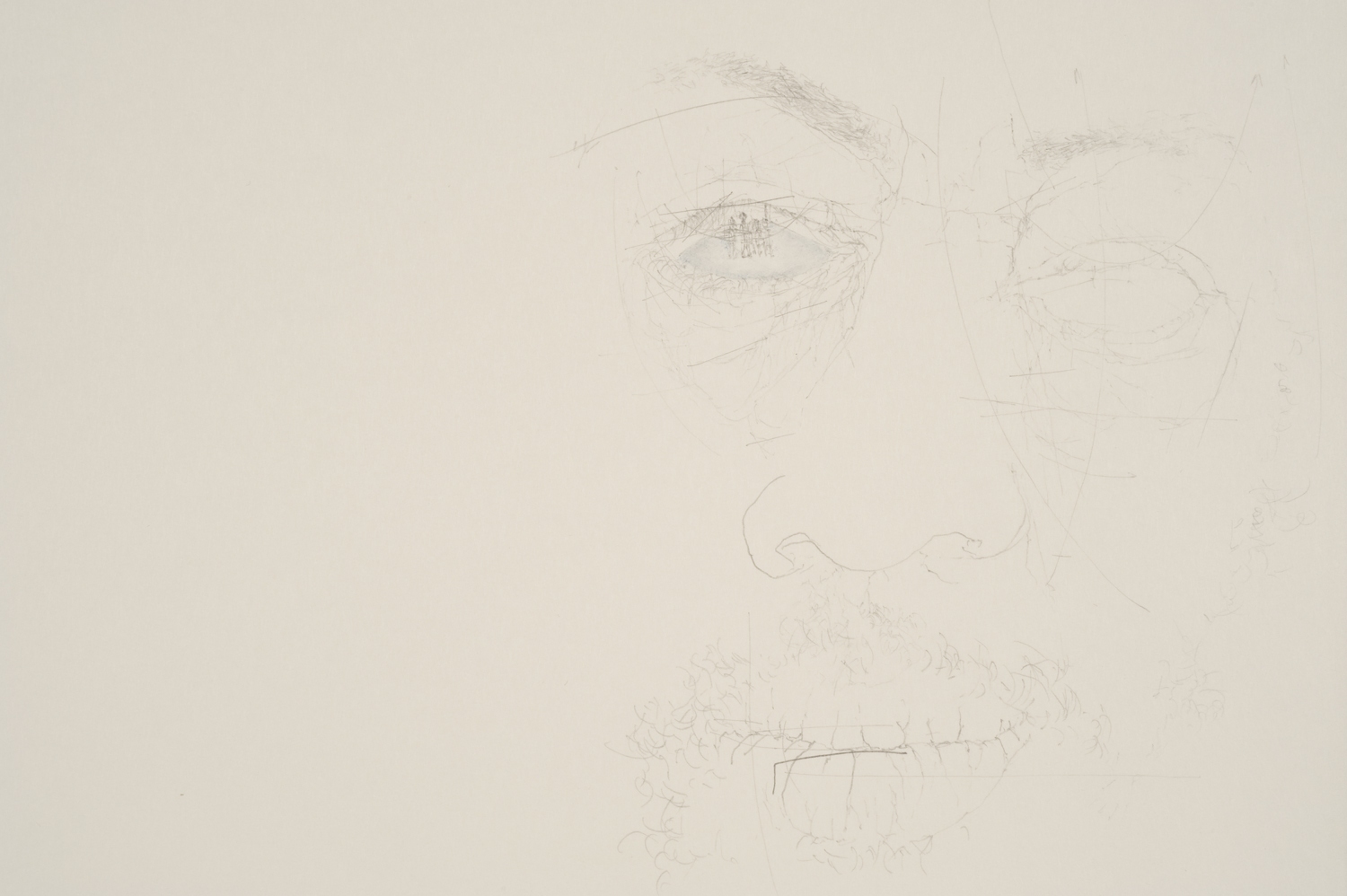 #20 DETAIL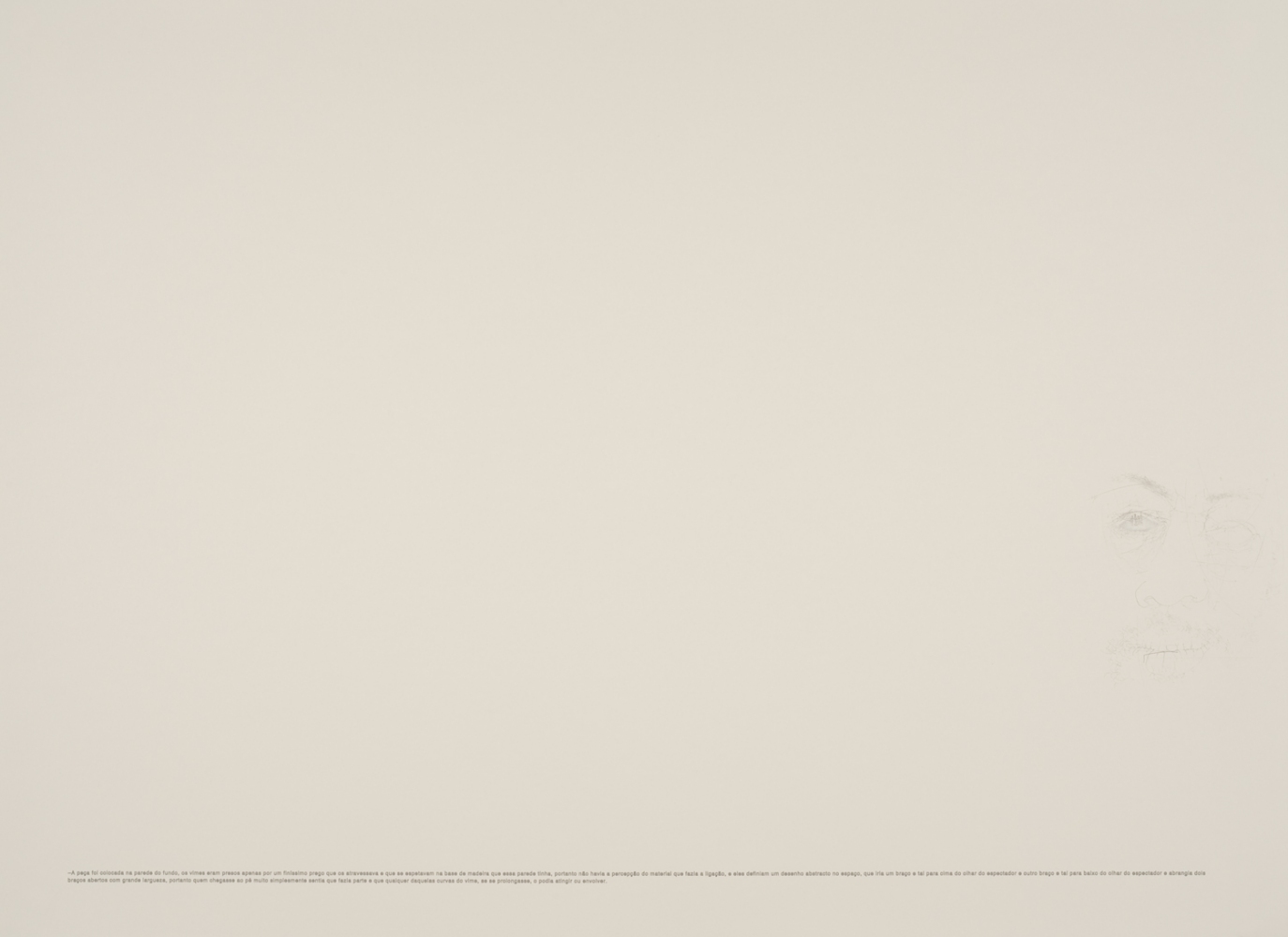 #20 CLICK TWICE TO READ THE TEXT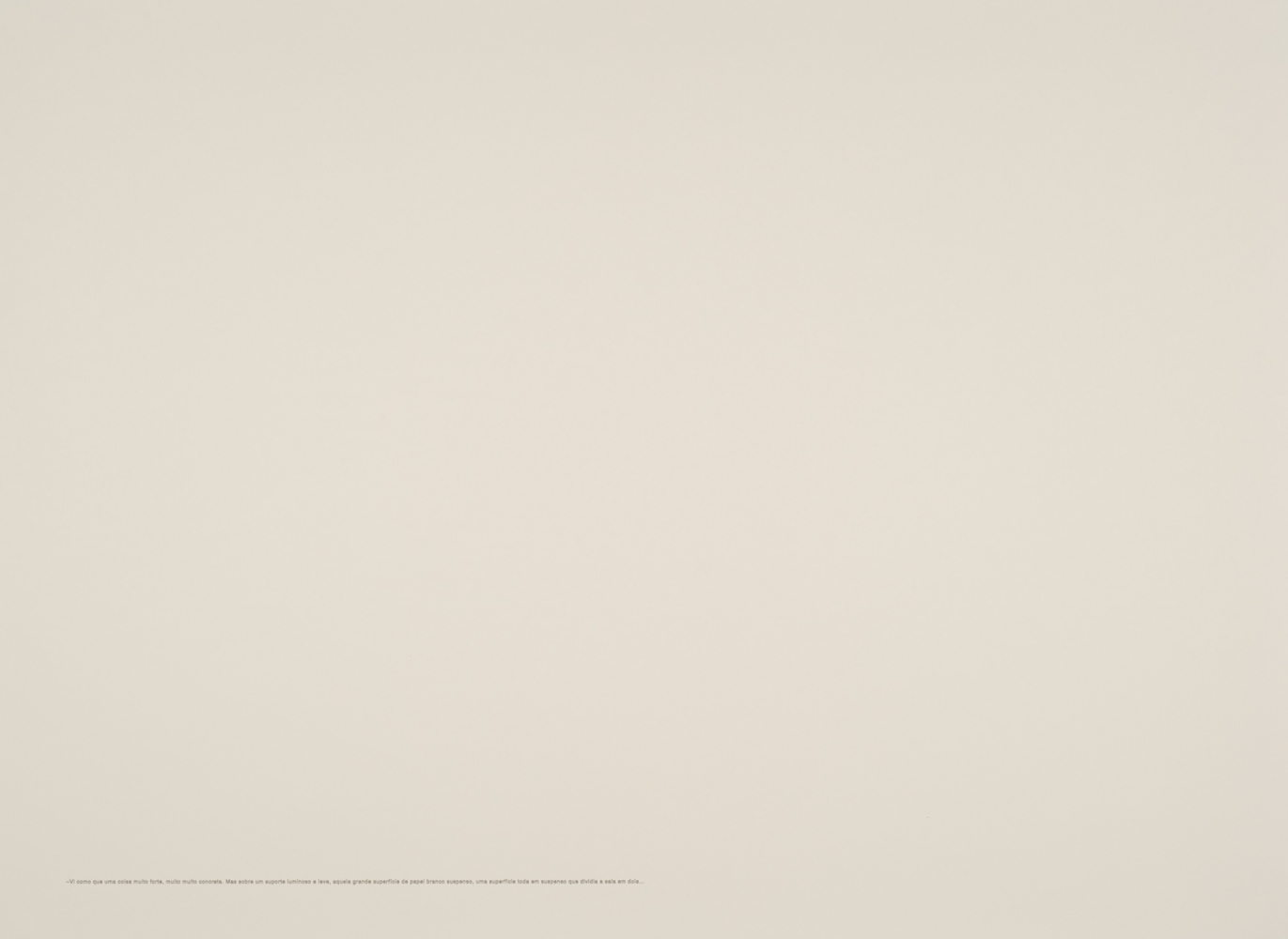 #21 CLICK TWICE TO READ THE TEXT
– I saw it as something incredibly strong, incredibly concrete. But on a support that was luminous and light, that great big area of suspended white paper, a totally suspended area that divided the room in two...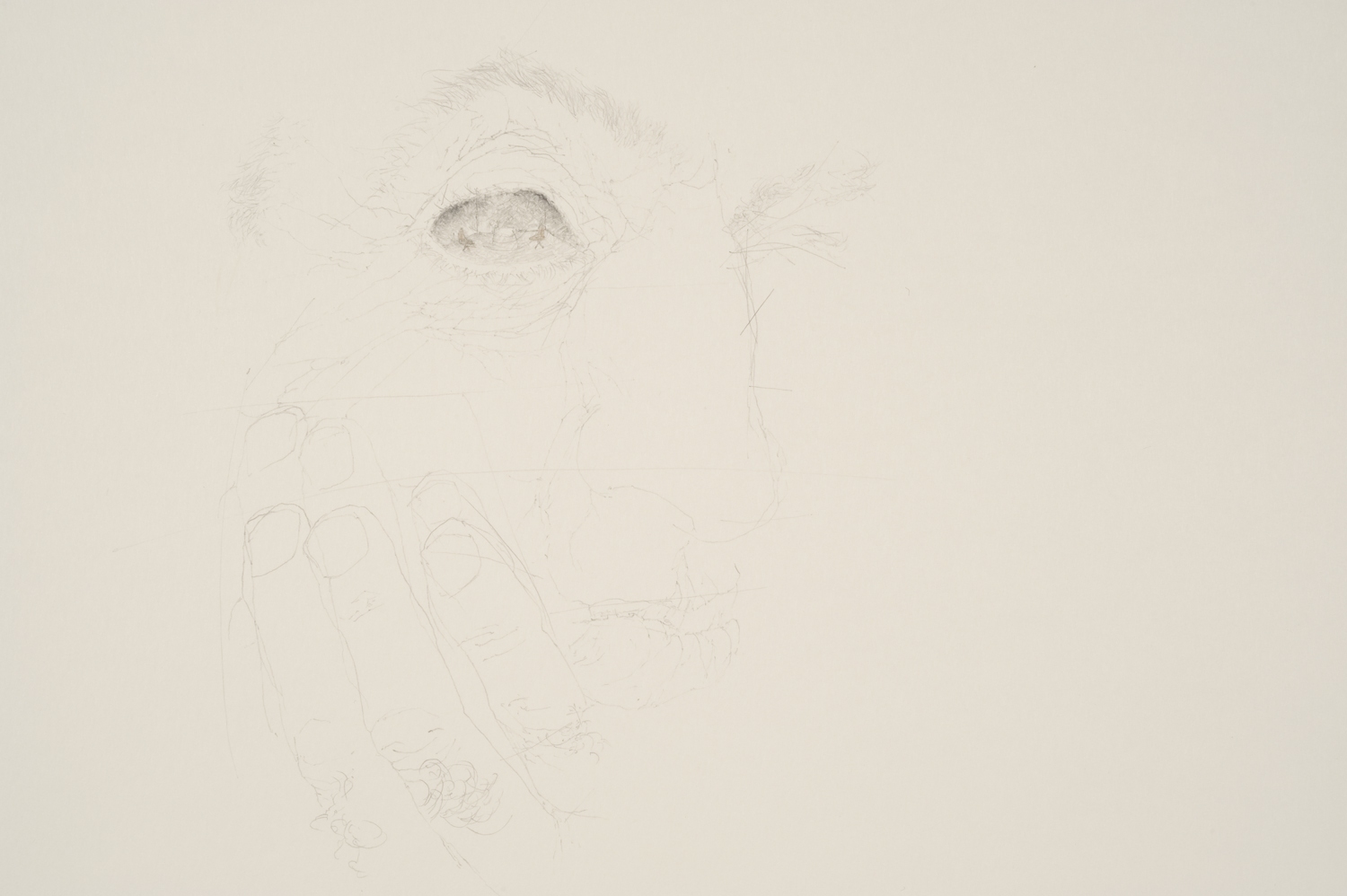 #22 DETAIL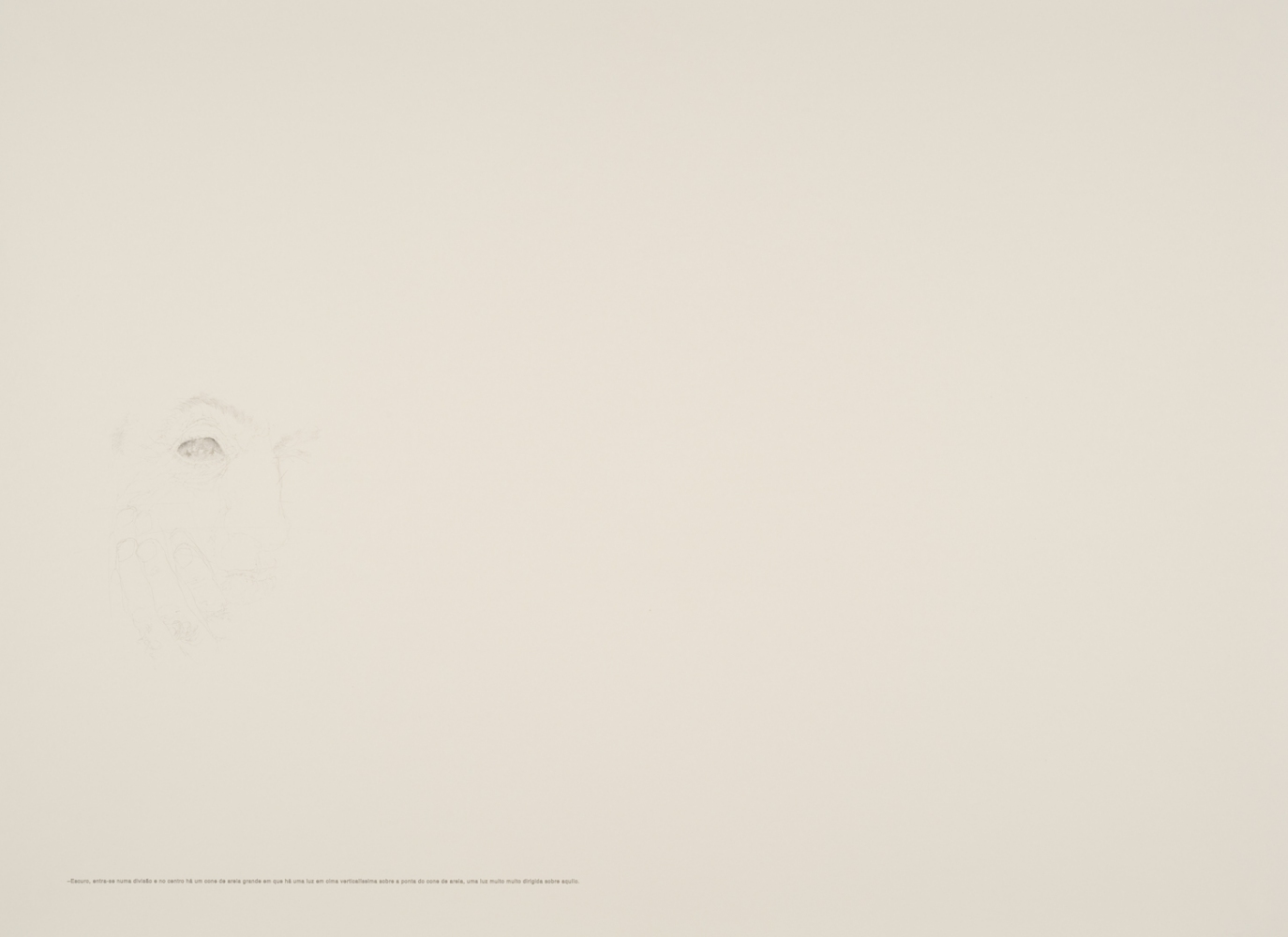 #22 CLICK TWICE TO READ THE TEXT
– Dark, you enter a room and in the centre there is a big cone of sand and there is a light above shining straight down on the tip of the cone of sand, a light focused right on it.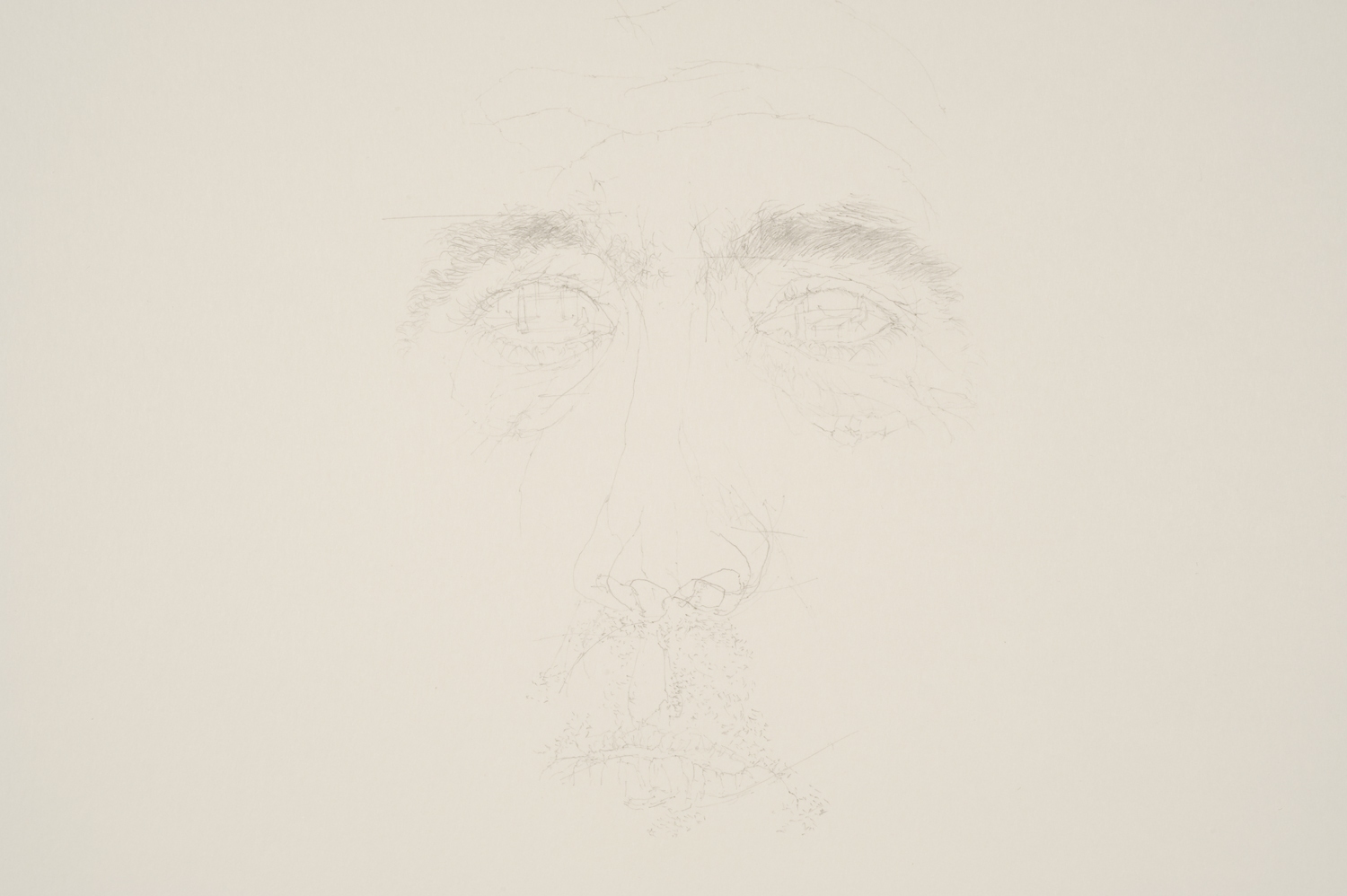 #23 DETAIL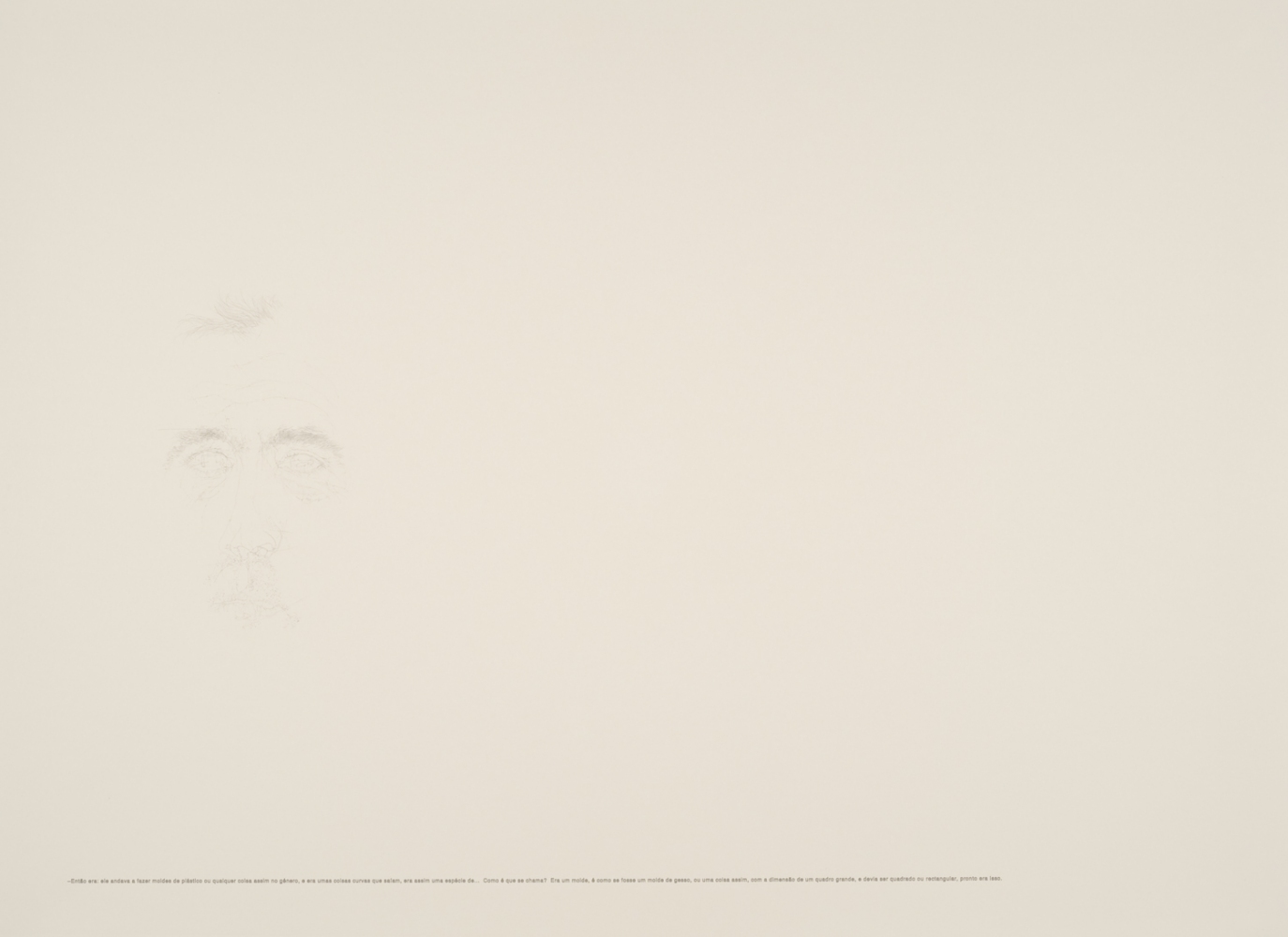 #23 CLICK TWICE TO READ THE TEXT
– So, he was making these moulds out of plastic, or something similar, and created these curved things, they were a kind of... What do you call them? It was a cast, it was like it was a plaster cast, or something like that, the size of a large painting, and it must have been square or rectangular, that's what it was.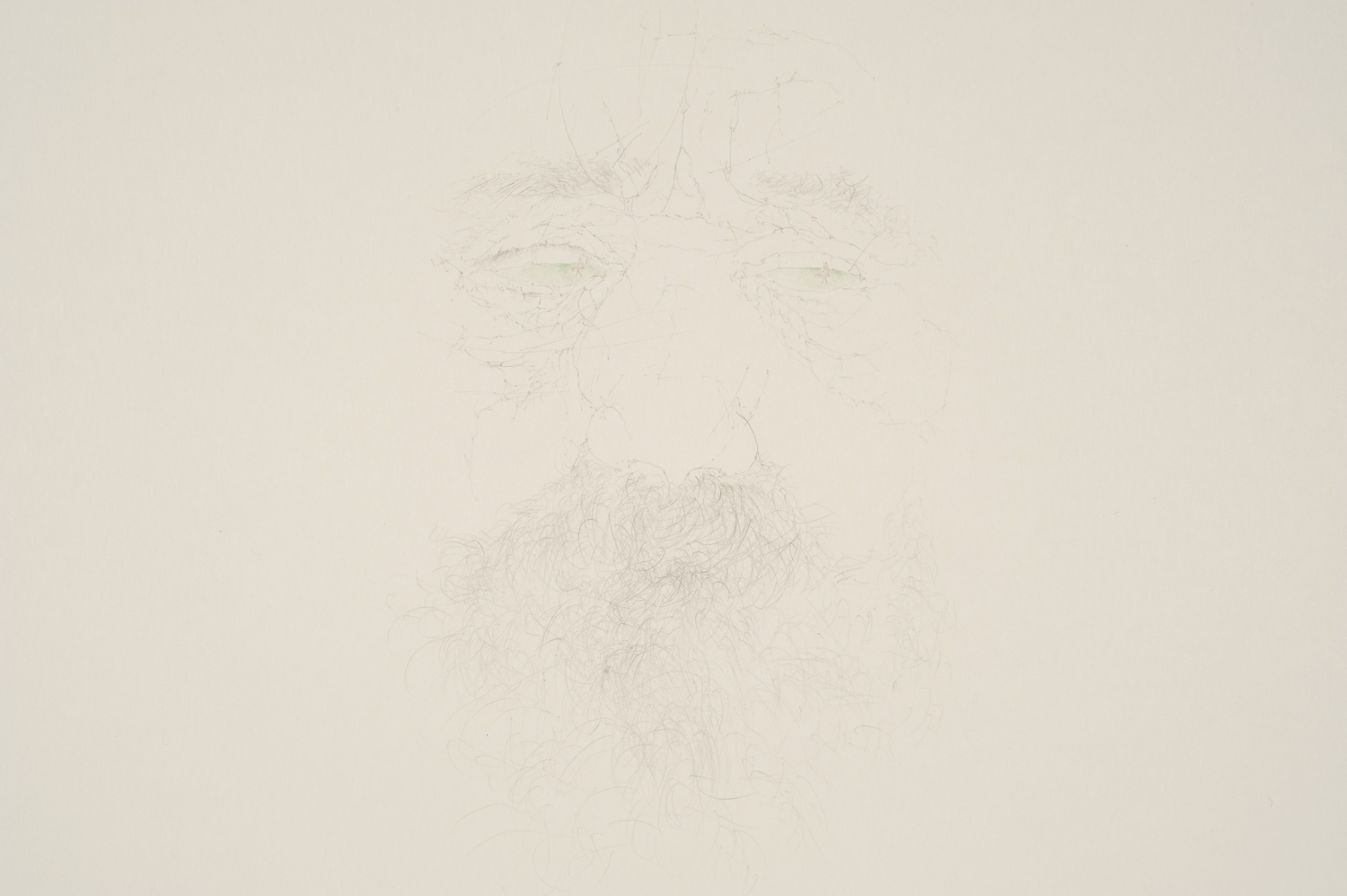 #24 DETAIL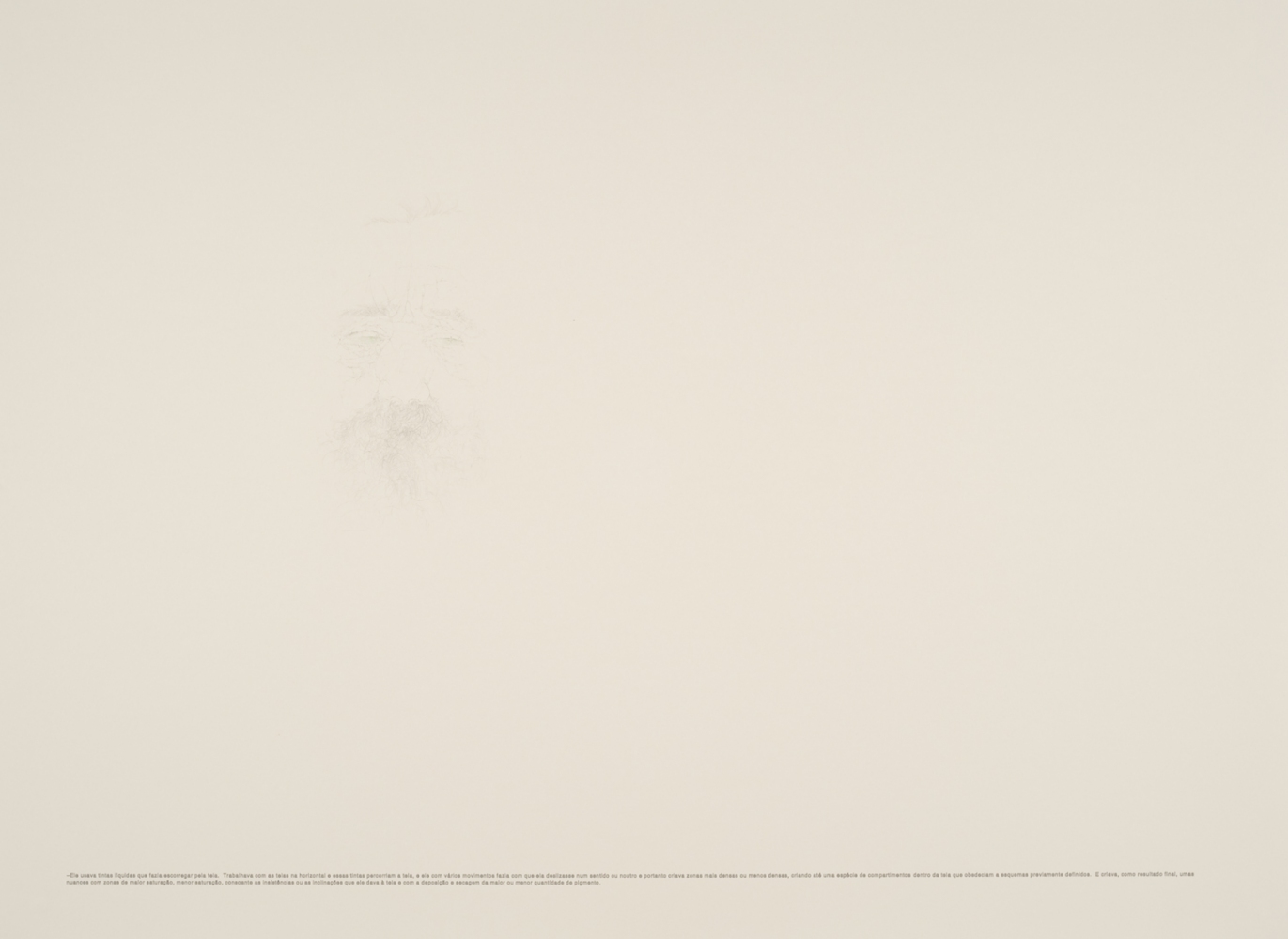 #24 CLICK TWICE TO READ THE TEXT.
2011
Pencil, color pencil and printed text on paper.
30 x 22 inches
– He used liquid paint that he made run over the canvas. He worked flat on the canvases and these paints covered the canvas and, with different movements he made the paints run one way or another, making areas that were thick or thin, even dividing up the canvas according to schemes he'd already worked out. And he ended up creating nuances with areas that were more saturated or less saturated, according to the way he concentrated on or tilted the canvas, leaving behind and letting dry greater or lesser quantities of pigment.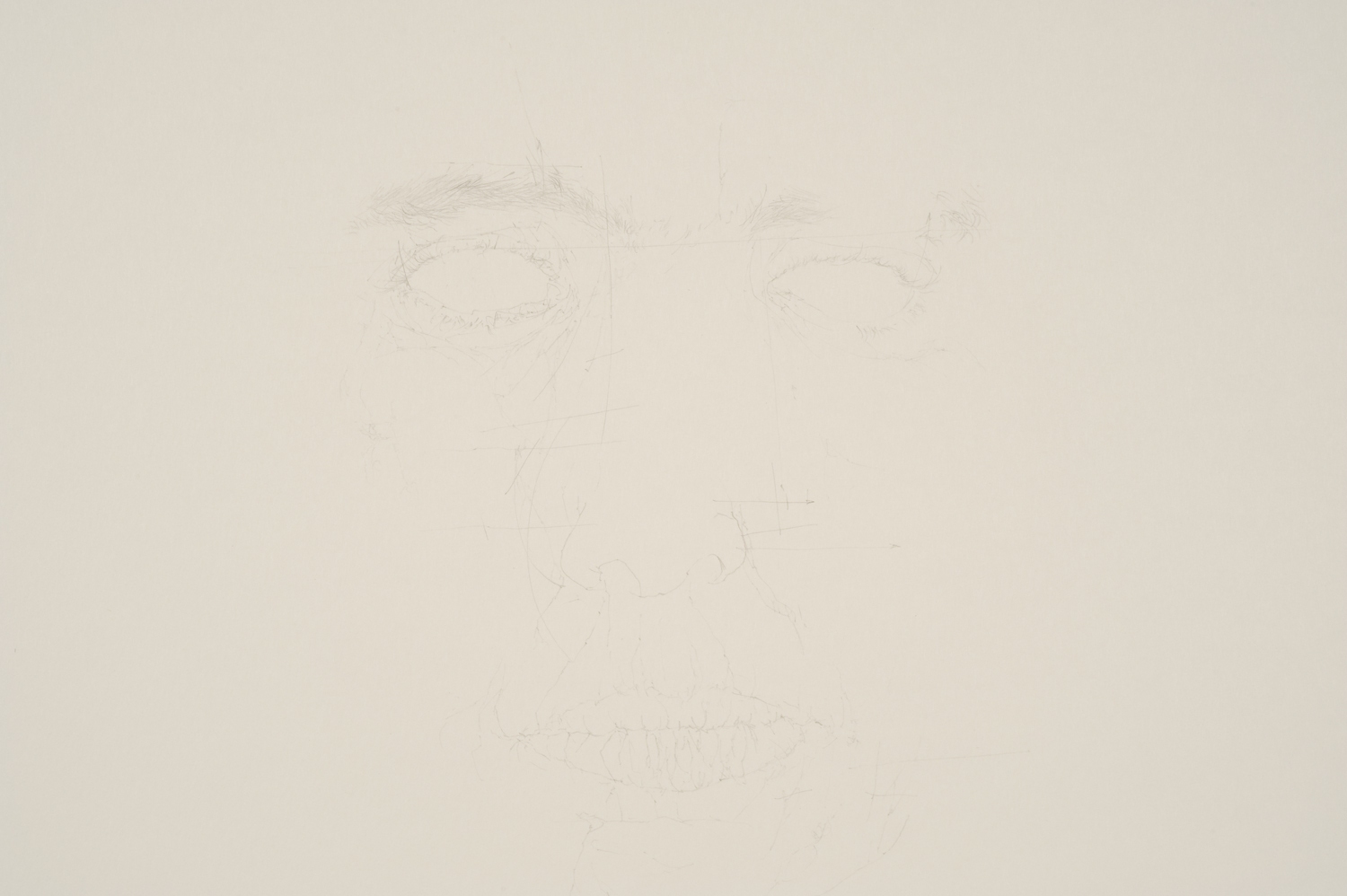 #25 DETAIL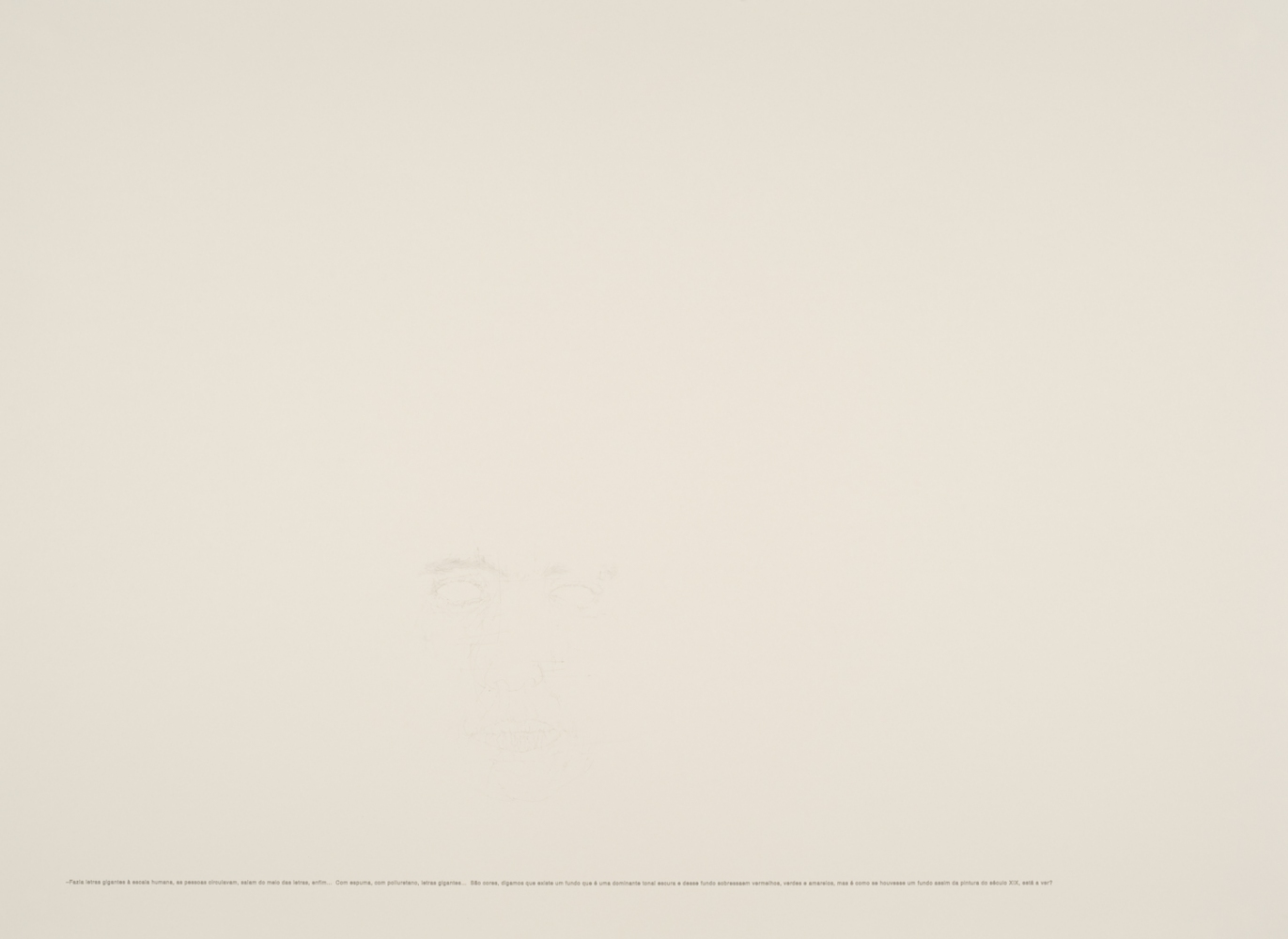 #25 CLICK TWICE TO READ THE TEXT
– There were enormous letters as big as a person, people wandered around, through the middle of the letters... Made of foam or polyurethane, enormous letters. There were colours, you could say there was a background which was a dominating dark area and against this background reds, greens and yellows stood out, but it was like there was a background from the nineteenth century, do you know what I mean?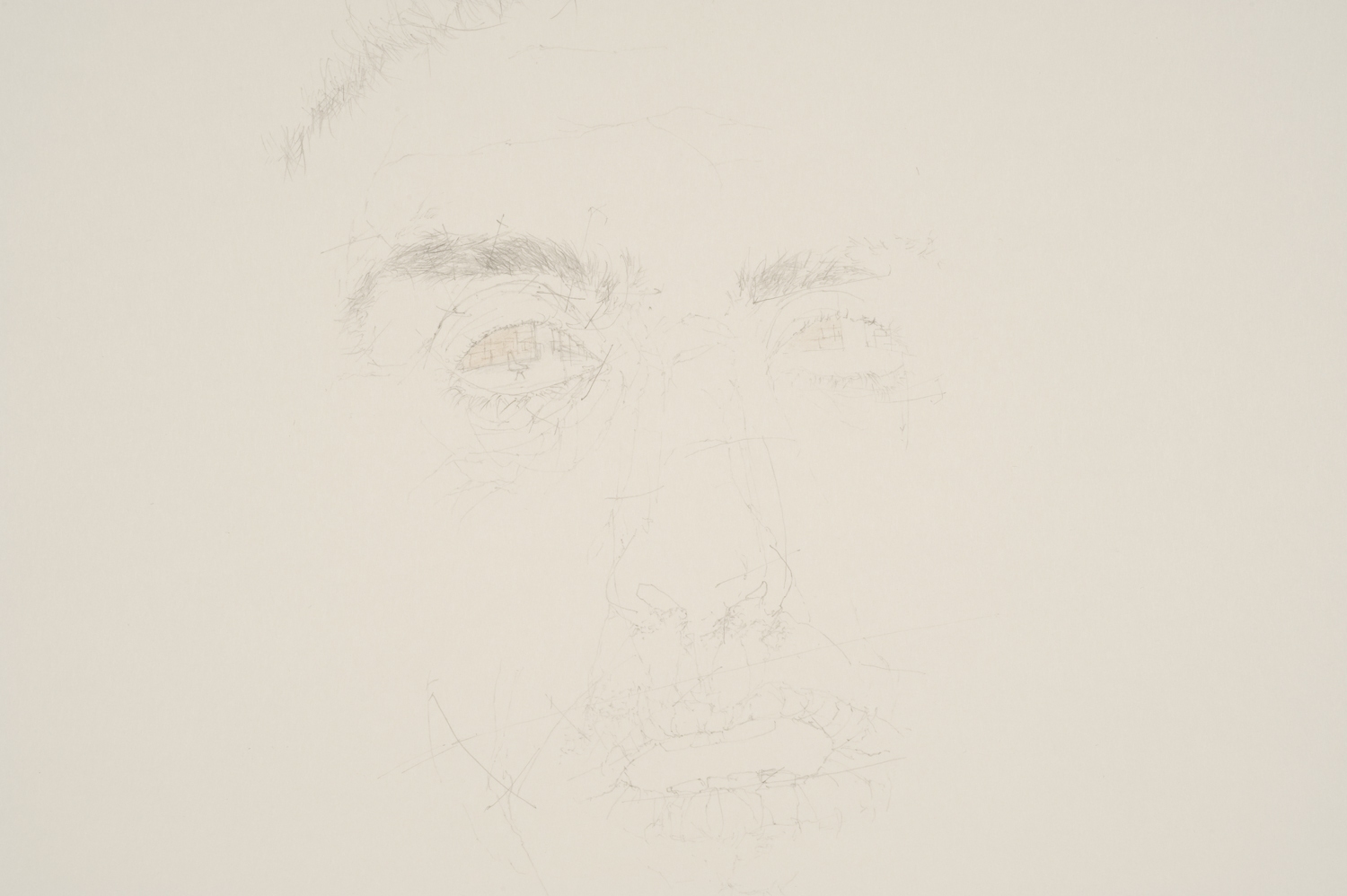 #26 DETAIL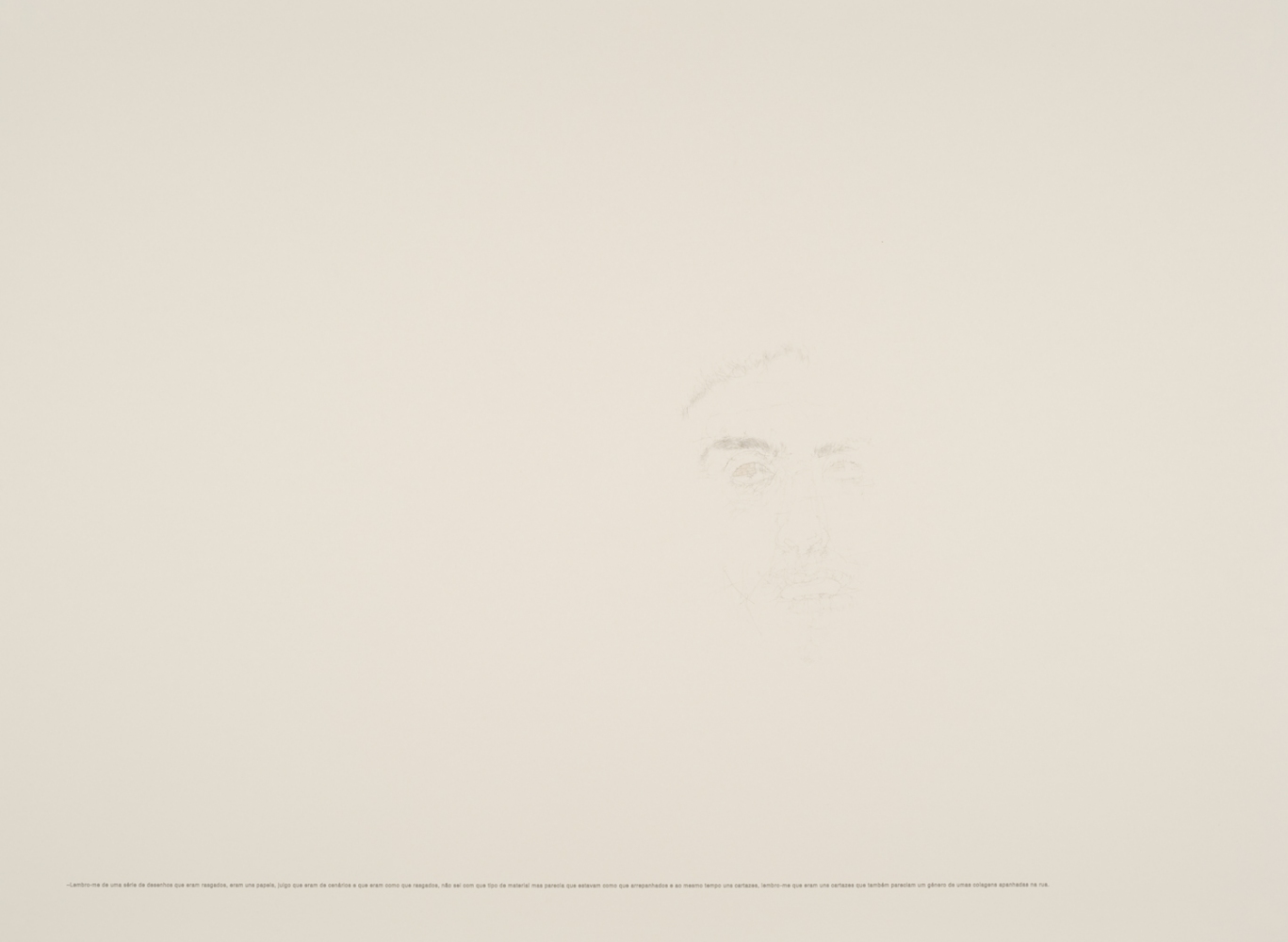 #26 CLICK TWICE TO READ THE TEXT
– I remember there was a series of drawings that were ripped up, some pieces of paper, I think they were of scenery, and that they were ripped up, I don't know what sort of material but they were kind of crumpled and also some posters, I remember there were also some posters that also seemed like collages taken from the street.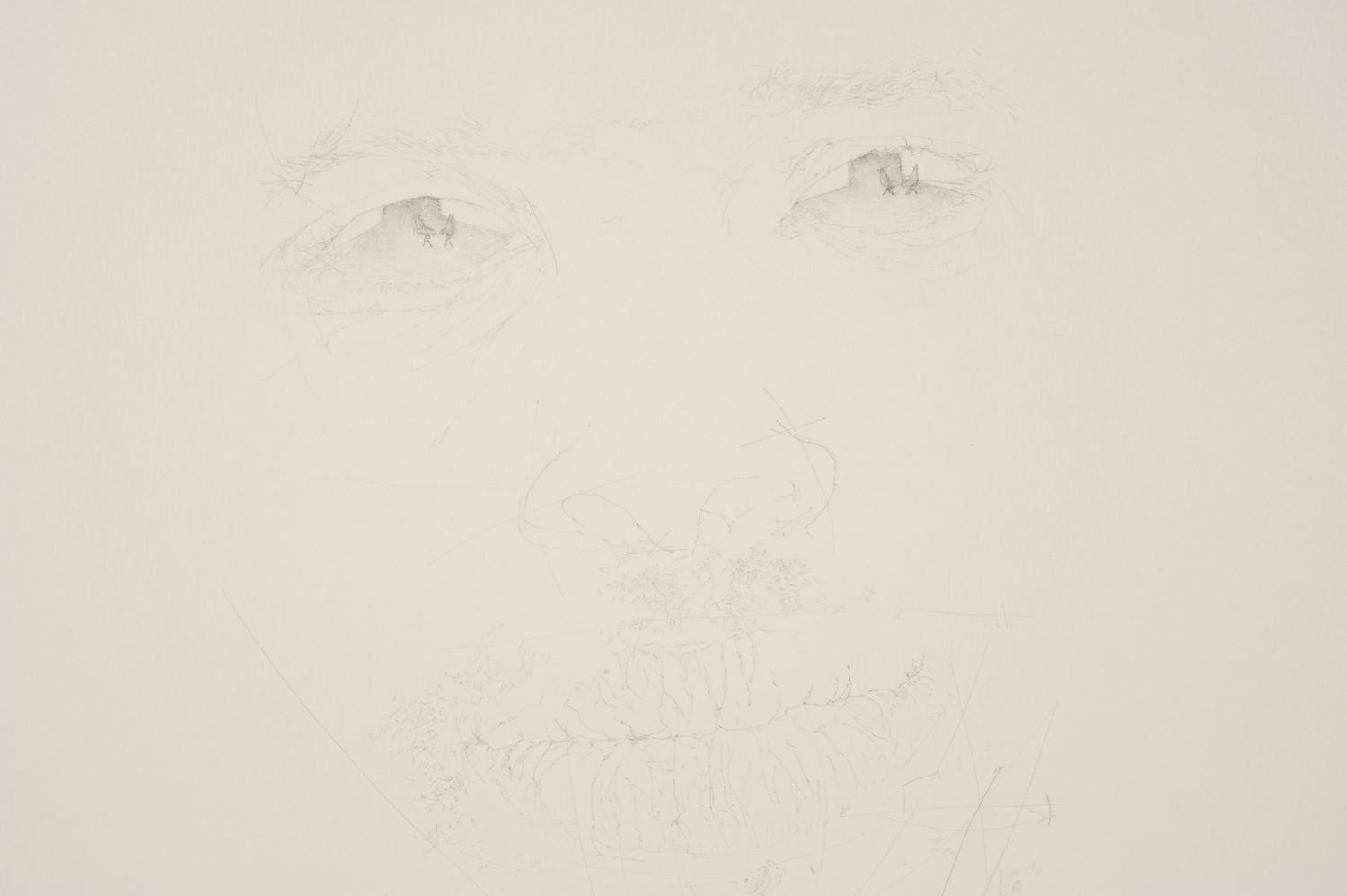 #27 DETAIL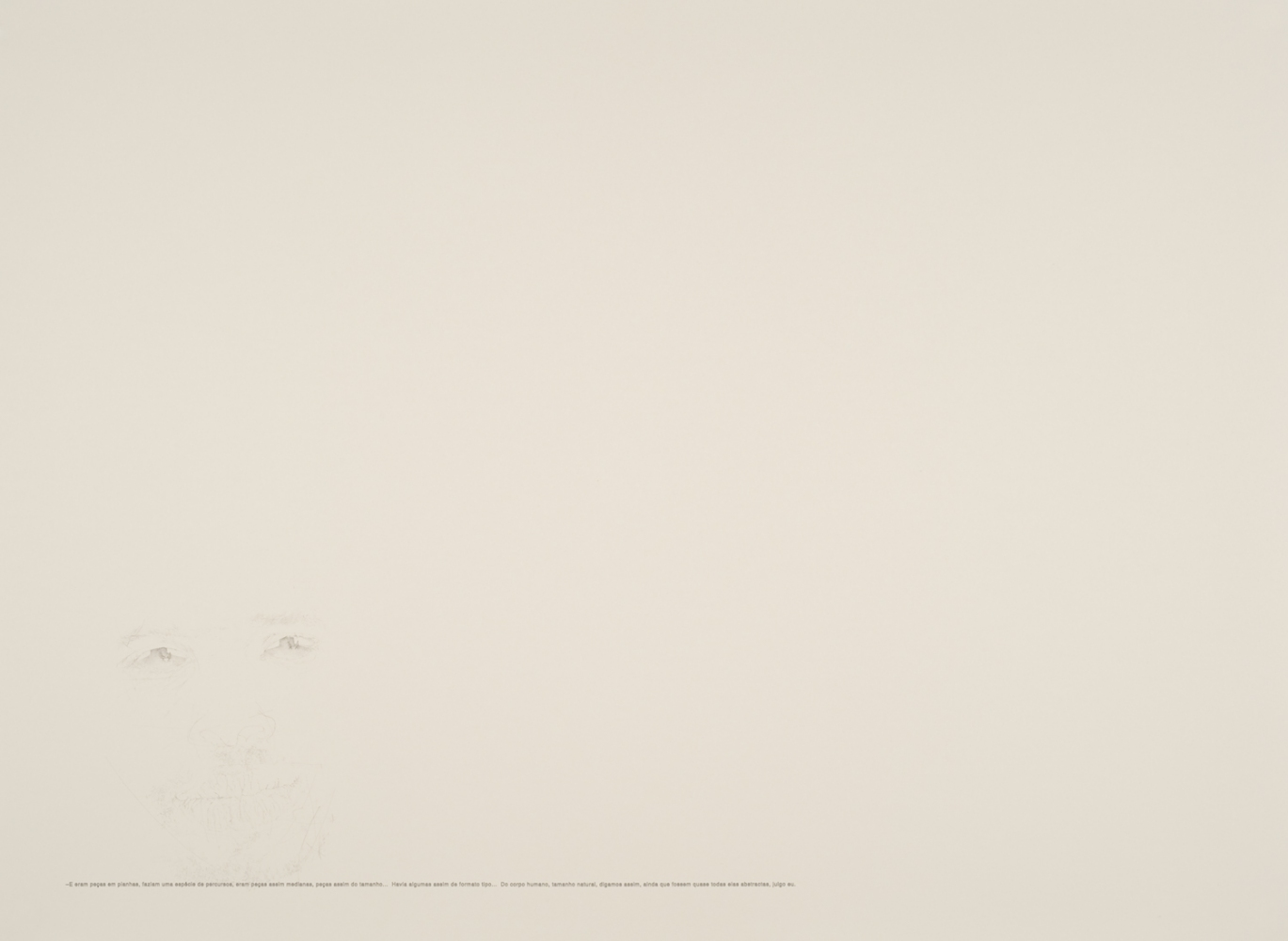 #27 CLICK TWICE TO READ THE TEXT
– And there were pieces on plinths, they made a kind of series, they were medium sized pieces, about so big... There were some that had the shape, kind of the shape... of the human body, life-sized you could say, even though they were nearly all abstract, in my opinion.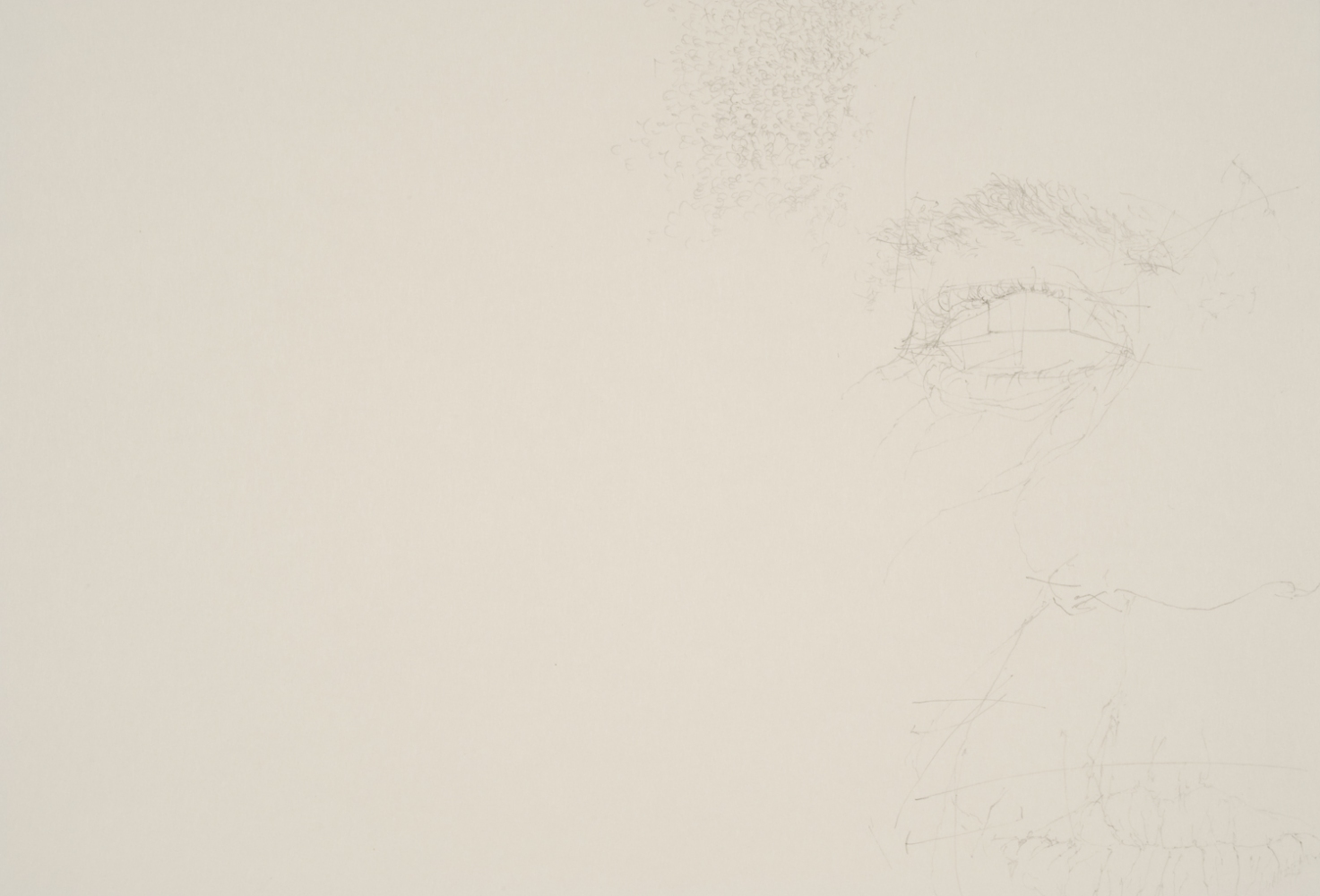 #28 DETAIL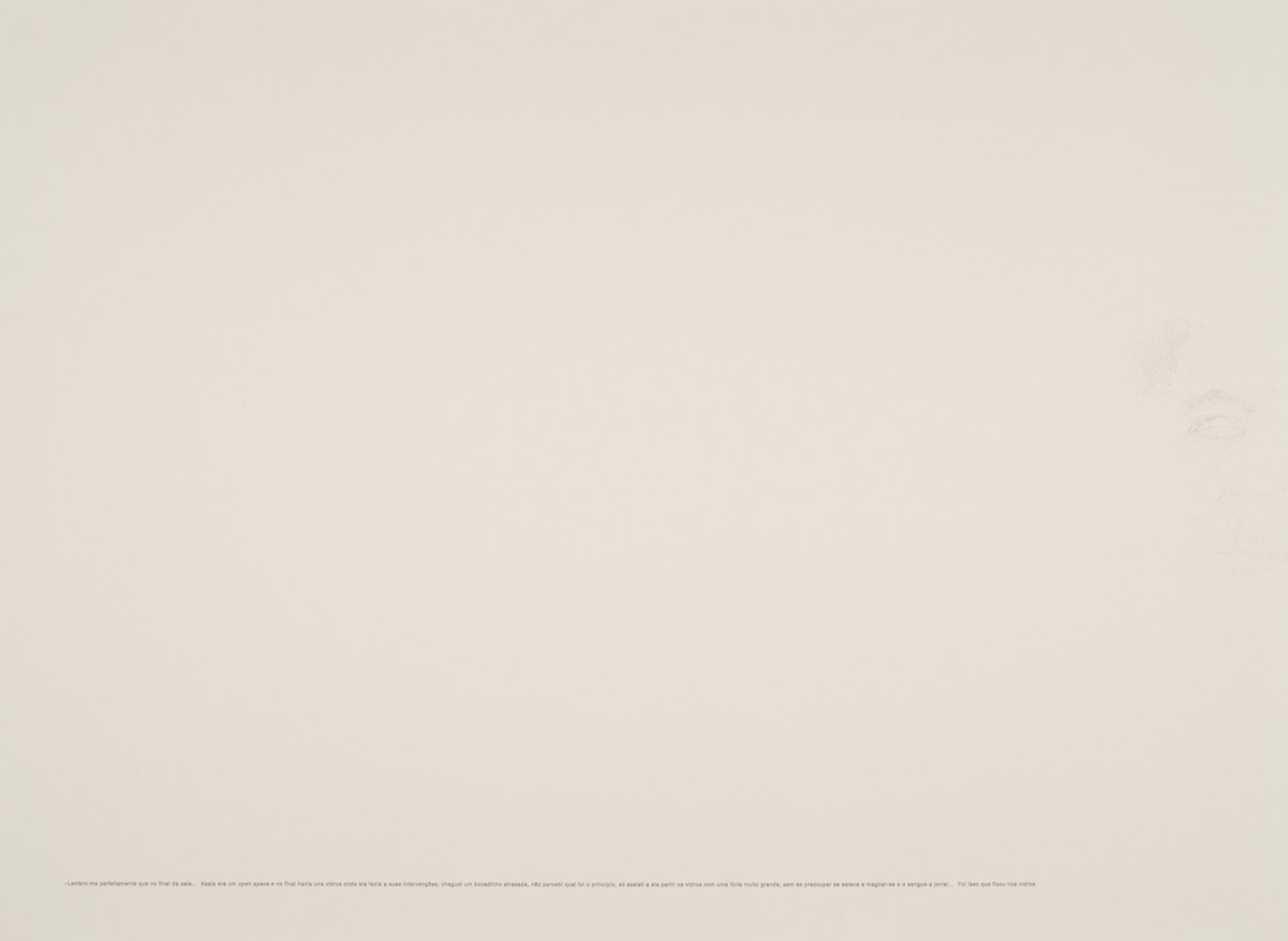 #28 CLICK TWICE TO READ THE TEXT
– I clearly remember that at the end of the room... The room was an open space and at the end there was some glass where she did her performance, I was a little bit late, I didn't watch the beginning, I just saw her smash the glass with incredible ferocity, without worrying about injuring herself and blood spurting out... That was what was left on the glass.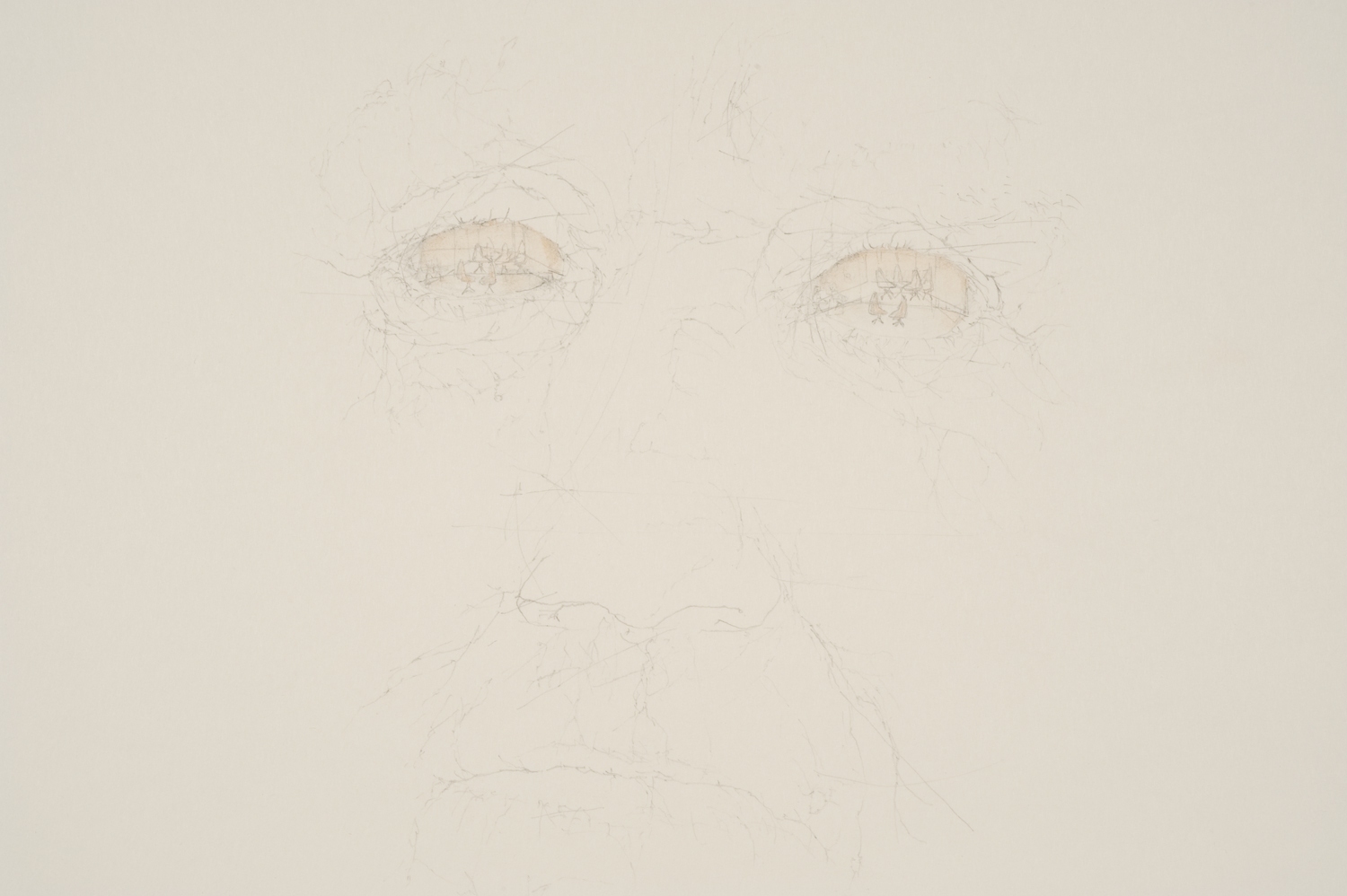 #29 DETAIL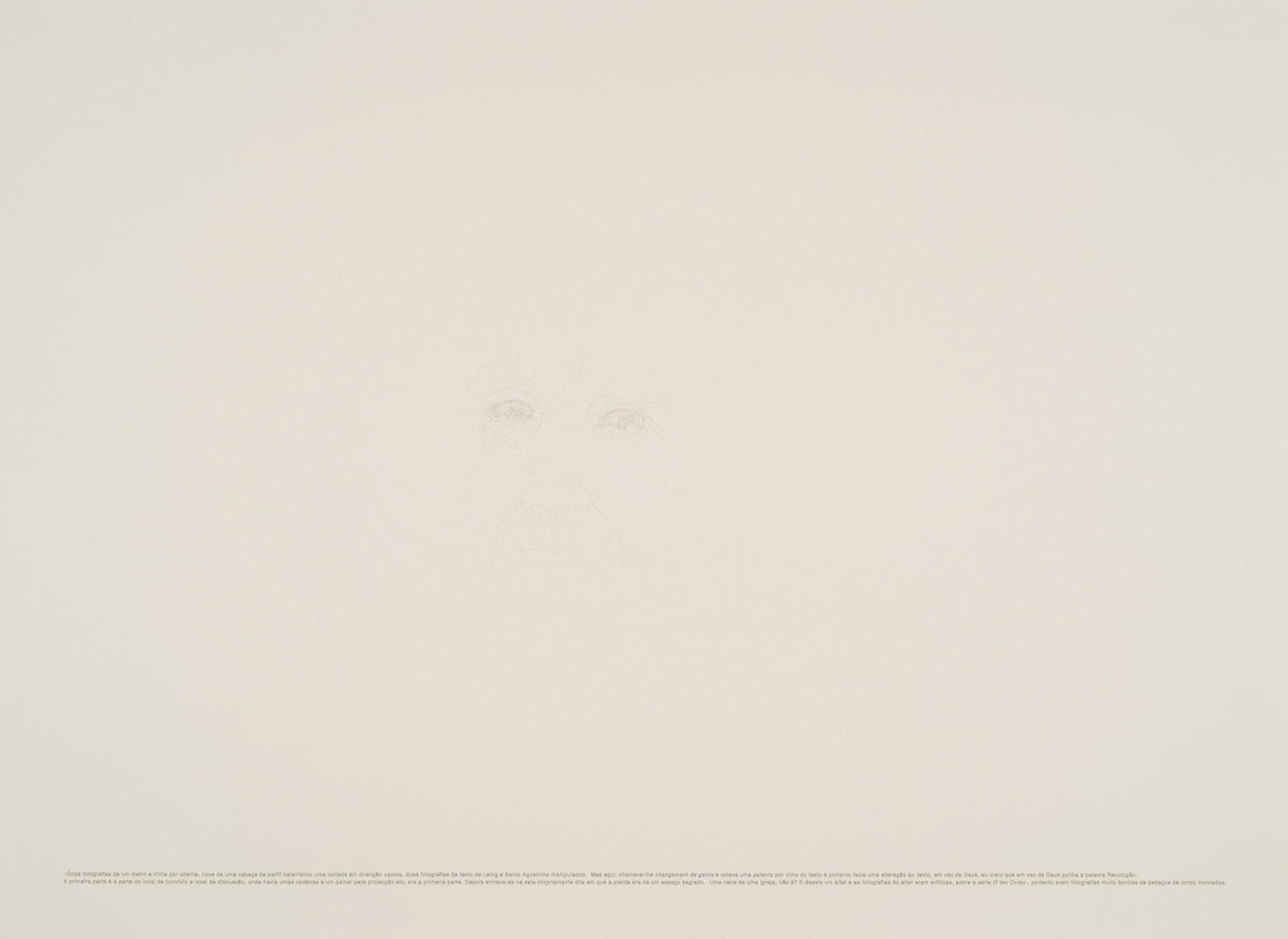 #29 CLICK TWICE TO READ THE TEXT
– Eleven photographs of 130 by 80 centimetres, nine of a Hellenistic head in profile, one facing the other way, two photographs of a text by Laing and Saint Augustine which had been manipulated. But here, it was called changement de genre and words were stuck over the text, making a change in the text, instead of God, I think instead of God there was the word Revolution. The first part was the meeting and discussion space, where there were some chairs and a projection screen, etc., that was the first part. Then you went into the real gallery, in that the layout was that of a sacred space. The nave of a church, no? And then an altar and the altar photographs were erotic, from the series O teu corpo [Your body], so they were some beautiful photographs of fragments of bodies.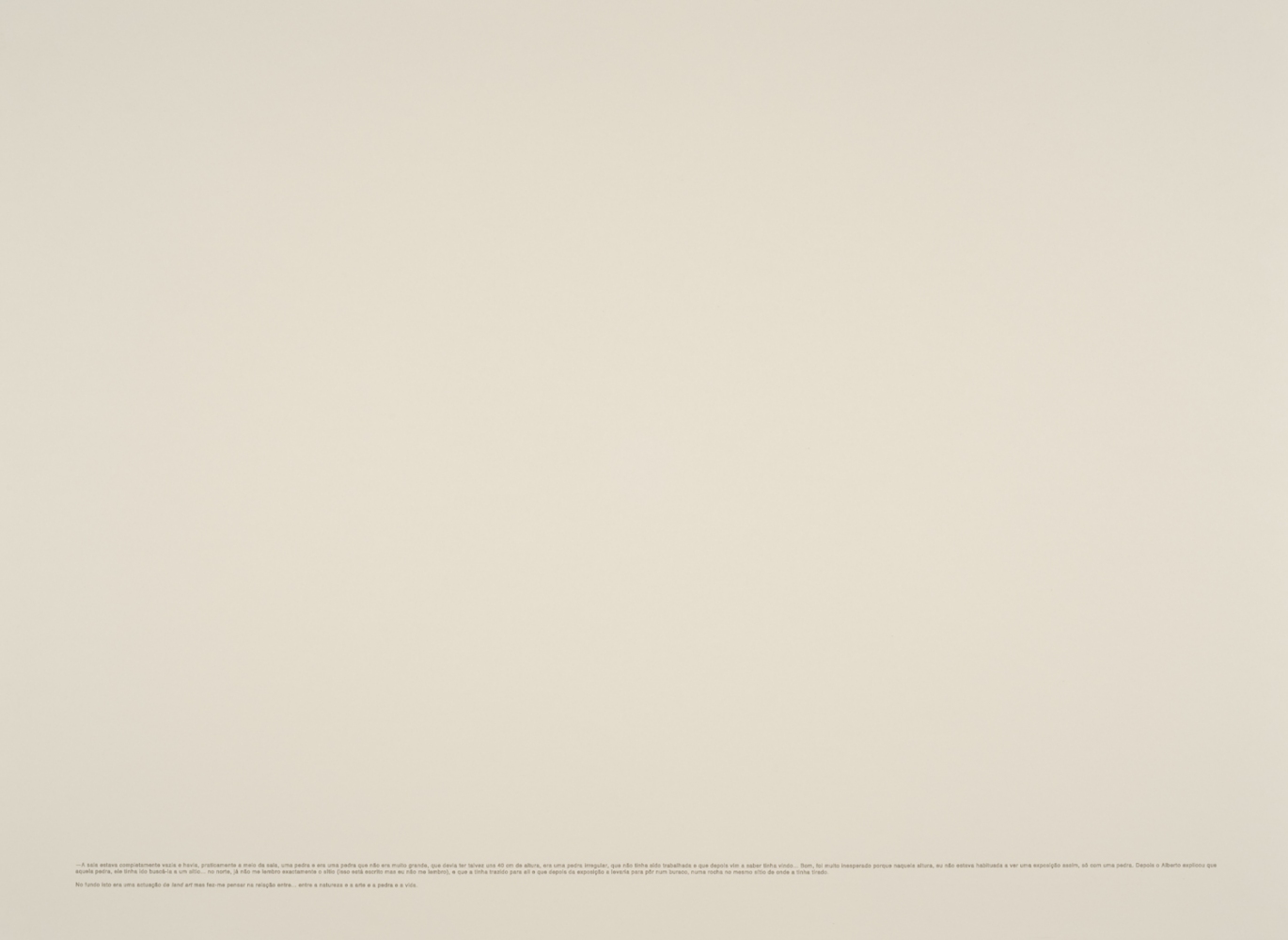 #30 CLICK TO READ THE TEXT
– The room was completely empty and there was, practically in the middle of the room, a stone and it wasn't a very big stone, about 40 centimetres high, an irregular stone, which hadn't been worked and which I later found out had come... Well, it was really surprising because at that time I wasn't used to see an exhibition like that, with just a stone. Then Alberto explained that the stone, he had gone to find it in a place... in the north, I don't remember the place exactly (it's written down but I don't remember), and that he had taken it there and that after the exhibition he would take it to put in a hole, in a rock in the same place he had taken it from. Basically this was a piece of land art but it made me think of the relationship between... between nature and art and the stone and life.